5 Pieces of Clothing Man Should Buy this Winter
Most men who want to dress better don't know where to start, as it can be difficult to find the right clothing. This means most me either have very little clothing, or have purchased a ton which is outdated, looks weird or doesn't fit correctly.
If this sounds like you, then continue reading this article to discover 5 pieces of clothing you should buy this winter to become more stylish.
Fur Hood Parka Jacket
As it is winter, lets start with an essential item – a stylish winter coat.
Parka Jackets have been around since the 1950's, and are still highly popular to this day. Over the years, many new styles and designs have been created, with modern parkas coming in all shapes and sizes. They are usually equipped with a synthetic or thermal insulation lining, meaning that are perfect for colder climates and resistant to wind and snow.
We recommend this Camo Fur Parka Jacket by Sinners, which adds a twist to the traditional parka design. It has a super warm thermal lining, which will keep you extra warm, and we think it looks great!
This jacket is also currently in the sale and can be yours for just £59.99!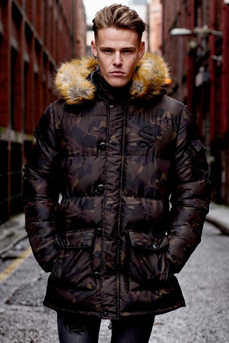 Long Sleeved T-shirt
For the casual winter look, try adding a long sleeved t-shirt to your wardrobe. Long sleeved t-shirts have creeped their way back into fashion and are great for keeping both your torso and arms warm!
There are various styles and designs available, which can sometimes leave you wondering where to start – so stick to these two simple rules:
–          Stick to neutral colours and avoid bright shouty colours
–          Choose patterns which complement the design, rather than overpower it
We are not saying you can't add a splash of colour or pick a long sleeve t-shirt with a pattern, but just bear in mind you don't want your t-shirt to detract from the rest of your outfit.
Collarless Shirt
The long-forgotten collarless shirts are on their way back into fashion and make a great smart-casual addition to any wardrobe. We recommend choosing a stark white coloured collarless shirt, as they can be paired we a variety of jean styles and colours.
In the winter months, wear your collarless shirt with a crew neck knit for a more striking collar line!
Bleach Splashed Ripped Jeans
You are probably sick to death hearing about how fashionable skinny ripped jeans are. So why not get ahead of the trend and invest in the next evolution of ripped jeans – bleach splashed jeans. These types of jeans look great and will set you apart from the crowd.
We recommend these Bleach Splash Knee Rip Jeans by Sinners, which offer a spray on fit and stay tight right down to the ankles. These jeans are currently in the sale and can be yours for just £24.99!
Large Hoodies
Casual clothing is really in this year, so make sure you invest in a large hoodie. They can be worm with pretty much anything and don't require any effort to pull off. This is a massive win if you wake up with no motivation to dress to impress, or simply want to go about your day feeling extra comfy.
We recommend sticking to branded hoodies, as we prefer their designs and they are usually made from good quality thick material!