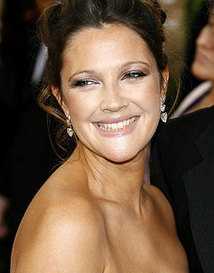 Drew Barrymore says Barack Obama made her cry.
"When I heard him speak about a gay person never having to sit outside the hospital room with their loved one sick inside, I burst into tears because so many people I care about are homosexual and it was profound to have someone be sensitive to that," she says in November's Harper's Bazaar. "That's the kind of world I want to live in, where we're not holding our own principles in judgment above someone or against someone."
Not only does Barrymore endorse Obama in the issue, she says, "It's the first time I've really admitted I'm a Democrat."
Despite her political affiliation, she says Republican candidate John McCain "is a good person, and he does care, but he has voted against things that are shocking as far as people's liberties and economic choices."
Barrymore doesn't talk about Gov. Sarah Palin, but says, "I think people realize the intention of the choice."
Although she voted for Al Gore last time around, Barrymore admits she didn't really pay attention to the voting process.
"I was raised in a family — well, no family, really, so no one talked to me about politics or why voting is important," she says. "So my way to educate myself was driving around America and filming all sorts of people with different mind-sets.
She goes on, "I became an avowed voter and feel it is really important to engage other people in it."
Since turning 30, "my priorities have changed so much," says Barrymore, who split from Justin Long earlier this year. "I've been single for months now, and I've turned my attention towards my passions, my friends and the causes I believe in.
"I've learned to put myself second. I've had a couple of fun, frolicky relationships, but really, I got out of five-year-relationship and dated a few people here and there," she says. "Mostly it's been about learning who I am, not through a man, but for myself."
She goes on, "I've been spending more time with my friends and doing more traveling with the U.N." — she's been to Kenya twice — "and challenging myself with work. I'm so happy with where my priorities are right now."