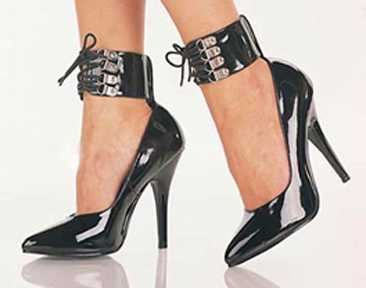 Most people don't remember their shoe size and when they are about to buy a new shoe or sandals for them, they opt trial and error method to judge the best size that fits. Measuring your shoe size is not difficult and it comes handy when you are ordering online.
Women footwear typically vary in sizes just because of the wide range available in the market. It's not possible to know the shoe size and remember it all the time. What if you have a shoe measurement quick guide handy with you which will help you decide your shoe size every time you really need it i.e. ordering online.
In order to know the accurate shoe size try using the following steps to ensure you know the size before ordering online.
Foot Length Needs to be measured: In order to obtain an accurate measurement you can place your bare foot on a white blank paper and mark your whole foot, from toes to heel. Once, you have marked the foot simply measure the length of your foot by determining the distance between foot marks (heel – toes).
Foot Width needs to be measured: You can use the same method as stated above to evaluate the width of your foot. This time just place the marks of the widest part of your foot on paper. Once done just measure the distance between two points.
Read the Chart: Now all you have to do is to figure out your shoe size by reading the following chart. This chart will help in determining best fit shoe size by your own.
Following chart helps in finding length of Men's shoe size: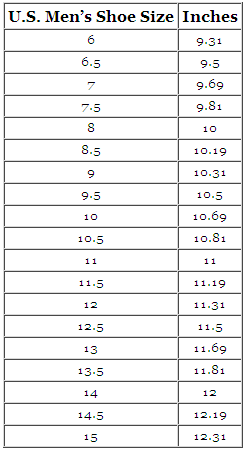 Following chart will help in determining width of Men's shoe size: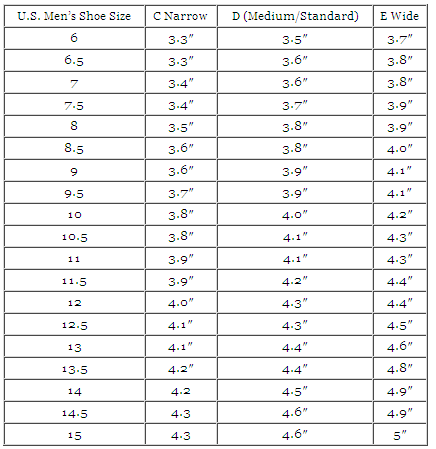 Determining Shoe Sizes For Women
In United states Women sizes are simply 2 size greater than Men's size so just measure your size follow the same steps and add 2 to Men's size. Remember, some brands vary in sizes so think wisely before placing an order online. It's advisable to choose the same brand which fits you best rather than ordering a new brand who's size, comfort and quality is unknown to you.
Leave us a comment and share your experiences of measuring your shoe size with us. Let us know if you find any difficulty in measuring your shoe size. Don't forget to subscribe to our RSS to receive our free email newsletter.