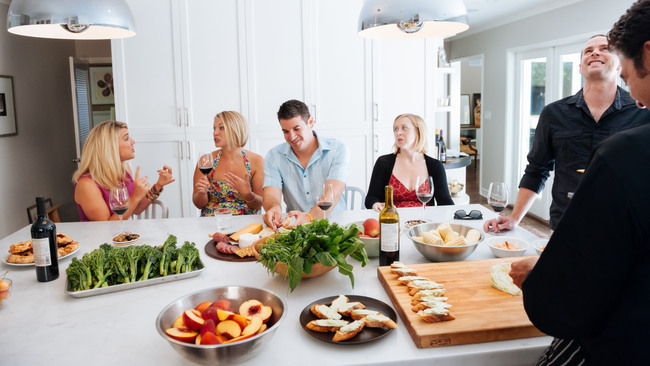 If you want to c. From the placemats to the centerpieces, you can create an elegant evening for your guests by following a few simple ideas. Your dinner party can be a beautiful event that makes your guests wish they had a permanent seat at your table.
Create Unique Centerpieces
Flowers tend to be the traditional centerpieces that decorate most dinner tables. However, you don't have to invest in fresh flowers from your local florist to make your party stylish. Instead, you want to embellish the basic pieces you already have in your home. For example, you can decorate vases with ribbons and fill them with marbles or stones. You can add glitter to large pillar candles or place small tea light candles in floating bowls of water.
Use Personalized Placemats
If you want to preserve your antique tablecloth while making your party stylish, then you have to use personalized placemats. Your guests will appreciate original placemats that are decorated with their names or other special information. You can find placemats in a variety of colors and add unique fonts, so your table settings will stand out.
Don't Forget Wine Glass Charms
How often have you left your wine glass on an empty side table only to return and see half a dozen other glasses next to it? Simple wine glass charms can help prevent this dilemma. Although they're easy to overlook, these charms can make your dinner party a better event. You can find charms in multiple designs ranging from abstract shapes to miniature cupcakes. You can also make your own with thin wire and colorful beads.
Stick to a Monochromatic Color Palette
A monochromatic color palette is easier to create and won't be distracting during dinner. First, you pick a single color from the palette for your party. Then, you can add tints and hues related to that color. Red and brown are popular colors for dinner parties because they create a warm setting.
Make Things Accessible
Your guests will appreciate being able to reach for the sauces or dips without having to beg the person next to them for help. You want to make sure that plates, trays and other dishes are easy to reach from every position at the table. In addition, if you have a long guest list and a large table, then you may want to put out multiple sets of salt and pepper shakers or bowls of sauce.
Create a Signature Drink for the Night
One of the easiest ways to make your dinner party stylish and unique is to create a signature drink for the evening. You can experiment with different flavors and syrups to make your cocktail. You may event to make the drink match the monochromatic color palette you picked out for the party.
Your dinner party can be an unforgettable night with simple adjustments. Your guests will appreciate your careful planning and the experience you create. They may ask to be invited to every dinner at your house.