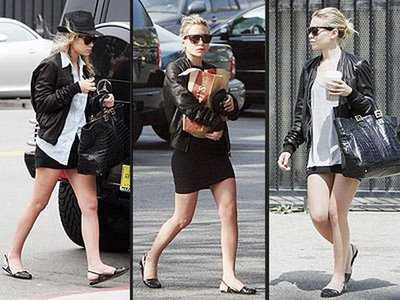 Whenever you think about fashionable women shoes your imaginations are stuck with Slings backs, Pumps, Stilettos etc. but with the changing attitude and fashion women flats are also becoming part of the fashion. Gone are the days when flats were considered for home use only and women use to avoid flats when going out. That situation was pretty difficult for pregnant women as they knew in their heart that flats are more comfortable still they were forced to choose other fashionable styles while going out. Heels which became brand ambassador of fashionable women shoes are losing its regime and women are finding flats cool enough to be worn on streets.
In recent years many celebrities were spotted hitting the red carpet with flats which is giving clear sign to other women to wear flats and forget about wearing high heels for shopping, office and casual outings (nobody is very comfortable in high heels anyways). If you carry yourself perfectly still wearing flats that's best because it will give you comfort as well as style (latest trend). Nowadays, flats are becoming a combo of fashion and comfort making them best for all times and occasions.
So, if you looking to have a wardrobe only filled with heels, pumps, stilettos etc. then you should consider flats too. Some women worry about their height so they worry that flats will make them look short and prefer high heels only. These days women of all ages, height and body type prefer flats which are very fashionable and cool. Try killing the height of the heels but not your fashion quotient.
There are various fashionable flats available in the market made up of rich fabric like velvet, satin or even silk with vivacious colors which give them an excellent look. Some flats also embellish glamorous look with lots of crystals, buckles, glitters, stones, gems or ribbons. These items just enhance the appeal of your flats. All you have to make sure that the embellishments are not overcrowded.
Just like your dress you should also wear flats gracefully and elegantly. You can wear flats with dresses like flared sleeves, wrap dresses, layered dresses etc. Those who aren't tall can wear heels but consider flats also. These days flats are getting very popular and they are no longer a slipper you use at home. New stylish looks are making them look even more stylish.
I would love to hear your experiences and views on women flats. Please leave me a comment and let me know. Subscribe our RSS to receive latest women footwear fashion.