New parents know to expect sleepless nights, constant diaper changes, and sheer exhaustion. But, many new parents are not prepared for the impact that a baby has on the family's finances. In 2010, new parents spent roughly $12,000 on baby-related expenses during the first year of the baby's life. This does not include the cost of having the baby or the expenses associated with raising the baby after its first birthday. How can parents prepare for the massive expenses associated with raising a baby? Follow these 5 budgeting tips:
Stick to the Must-Haves
Some new parents spend thousands of dollars on items that they think they will need to care for their newborn. But, the truth is that items such as changing tables, nursing pillows, and bassinets are completely unnecessary. New parents that are working with a tight budget should solely purchase must-have items such as a crib, stroller, car seat, and high chair. Sticking to the necessities can help new parents save money during this stressful period of their lives.

Research the Best Prices
It's important to conduct research to find the best prices for diapers, formula, and other baby-related items. Set time aside each week to look for coupons in the newspaper and online. If you're on a budget, every penny counts, so don't scoff at $1.00 off coupons. You should also be open to switching to other brands if there are no discounts or promotions on your preferred brand's products.
There are a number of apps that make it easier than ever to research the best prices. Apps like ShopSavvy and Walmart Savings Catcher are designed to help shoppers look for the lowest prices on thousands of items. Type in the information for the baby items you need and let these apps do all of the work for you!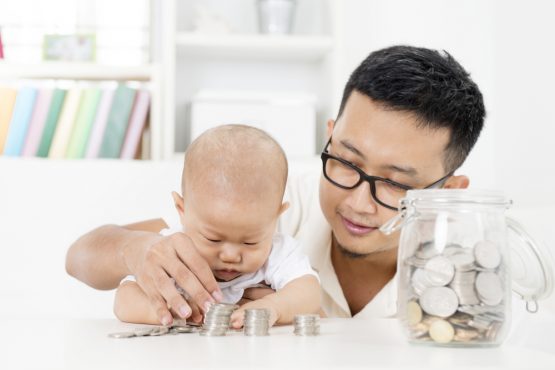 Adjust the Household Budget
Analyze your current household budget to see if it is possible to put more money aside for your new baby. You may have been able to afford daily lattes and weekly manicures in the past, but now, these are unnecessary expenses that may need to be cut out of your life. You may need to give up some luxuries in order to cover the costs of caring for a baby, but being a parent is well worth the sacrifice. Be sure to revisit your budget in a few months to see if you are meeting your goals. If not, make the necessary adjustments so you can get back on track.
Ask For Help
New parents can save a significant amount of money simply by asking for help from their friends and family. Instead of hiring a babysitter for the evening, ask a loved one to help out for free. Don't spend hundreds of dollars on new clothes and shoes for your baby—ask other parents in the neighborhood for hand-me-downs instead. Your loved ones are probably eager to help out in any way they can, so let them. This is a great way to cut costs and save more money during the first few years of your baby's life.
Open a Dependent Care FSA
New parents should consider setting up a dependent care flexible spending account (FSA), which allows them to set aside up to $5,000 in pre-tax income every year to use on child care expenses. The money that is deposited into this account is not subject to payroll taxes, so you will save money by paying less in taxes. In fact, it's estimated that new parents can save up to $2,000 per year simply by contributing to a dependent care FSA. Having one of these accounts also makes it easier to put more money aside so you are prepared for unexpected child care expenses.
These tips can help new parents take control of their finances immediately after having a baby. By following these tips, new parents can focus on soaking up every moment with their newborn instead of worrying about how to make ends meet.