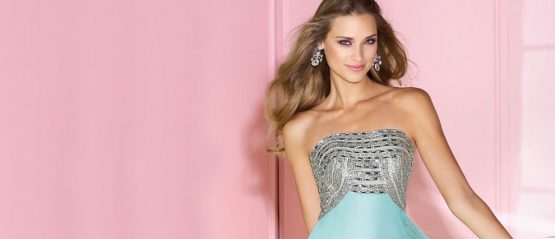 In high school, there is no fashion choice more pivotal than deciding what dress to wear to the prom. In fact, it could be compared to a celebrity choosing what dress to wear on the red carpet during awards season. Most teenagers don't have a team of stylists or unlimited access to fashions straight off the runway, though. Many don't have the perfect "sample size" body that most celebrities do either. That doesn't mean it is necessary to settle for looking anything less than fabulous on the big night. Here are a few tips to find the perfect dress—whether shopping for petite or plus size prom dresses.
Use Body Type to Determine Flattering Styles
Different dress silhouettes are designed to flatter different body types. Knowing what to look for before ever setting foot in the fitting room will save a lot of frustration, tears, and angry texts. Body types can typically be categorized as:
Hourglass – Curvy figure with small waist and full bust and hips. Look for styles that show off curves without looking too top heavy such as halter top dresses with plunging necklines or a modest V-neck. Mermaid silhouettes are a popular choice for hourglass figures.
Apple – Weight is carried around mid-section. Create the illusion of a tiny waist by choosing dresses with a well-placed Empire seam. It should hit at the narrowest part of the body—typically just below the bust and above the natural waist. The skirt should be flowing and the bust fitted. Look for details such as beading or lace on the bust and/or collar to draw attention away from the stomach.
Pear – Smaller on top than through hips and bottom. As with an Apple shape, silhouettes that are fitted on top and loose on the bottom will be more flattering. Strapless styles that highlight shoulders or have details on the bust will balance out this body type.
Straight – Little difference between hip, waist, and bust measurements. Create the illusion of curves by defining a waist. Styles with a sexy yet sophisticated side cut out or a rhinestone accent at the waist work well to add curves to an otherwise straight body.
Separate Trends From Tragedies
There are a number of fun, flirty, youthful prom dresses to choose from. Some of the hottest trends for prom 2014 that are straight off the runway include:
Ruffled skirts
One shoulder styles
Illusion backs and cutouts
Again, matching the style of the dress to the body type is the key to finding the perfect dress and preventing a fashion tragedy. When shopping for plus size prom dresses it is a good idea to avoid styles with ruffled skirts because they visually add weight and bulk. One shoulder styles with ruching at the waist, on the other hand, are often a good choice for larger teens because they offer support for a large bust and camouflage the stomach area.
The top colors for prom this year are also youthful. Look for dresses in nude, blush or coral for a more romantic look. Cool mint green and light blue are also trending. Of course, classic colors such as black and red will never go out of style. For a classic yet contemporary look, try a nude dress with a black lace overlay.
Wear it With Confidence
Finally, be sure to move around when trying on each dress to make sure that it is comfortable when standing, sitting, and dancing. It shouldn't require frequent adjustments to stay in place and look good. Comfort raises.