Great hair is a must. No one wants to be seen dead with last year's hair trends. So, how can you make sure that your hair is bang on trend for spring 2015? There are some styles that everyone can try. For spring, it's all about relaxed, laid back hair. After all, winter has played havoc with our locks. Spring is all about making sure that our hair is growing stronger and thicker than ever before. Whether you want a fresh hairstyle for work or something funkier for a night out, spring hair trends have got it covered.
Poker Straight Hair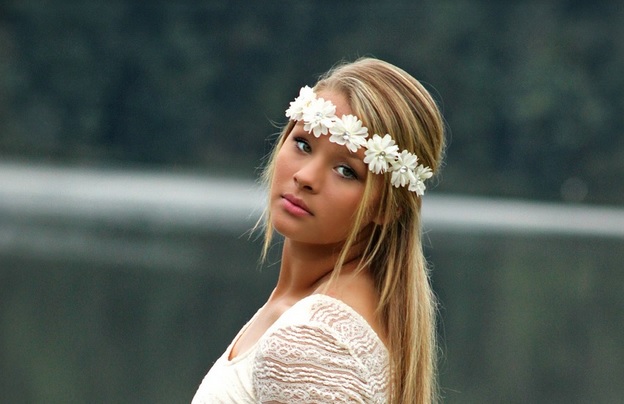 Poker straight hair is always in and out of vogue. But, our favorite easy to accomplish hair style is back. It's time to wave goodbye to curls and bohemian style tresses. This season, it's all about how straight you can be. The flat iron is a celebrity favorite. So, make sure that you stock up on heat defense spray this season and get ready for super straight locks.
French Braids and Up-Dos
From the office to bar, the French braid is a chic, no-nonsense hairstyle. But, it's been updated for spring 2015. Now, we are ditching the Heidi look and opting for a thick, diagonal French braid along the entire length of our head. Having curly tendrils down the side of your face is a must. These can frame your face and make the hair style look more relaxed. The great thing about this look is once you've French plaited your hair, you don't have to touch it again all day. Perfect.
Say Bye to Bangs
Bangs were a massive hit in 2014. Now, you have to suffer the pain of growing them out. They are not a keen trend this year. But, be rest assured that hair accessories are going to be huge. So, no matter how you pin your hair back you can ensure that you have cute accessories to make your hair sparkle. From vintage brooch clips to feathers, there are some serious accessories for spring. Simply pin back your bangs and away you go.
Feel the Crimp
The eighties was a glorious time for hair. The bigger, the better was the consensus. But one trend that faded away was crimping. Until now. Crimping is going to be massive. With designers such as Dolce and Gabbana crimping their models hair on the catwalk, you know it's going to be a hotly tipped trend. Do be wary to not crimp your hair all over. Just crimp small sections of your hair for a 2015 twist on a 1980s classic.
Maximising Gloss
Glossy hair has never been out of style. In 2015, it's all about Maximilian your shine even more. It's all about wealthy, healthy looking dark locks. It's time to dig out the trusty serum and shine spray and give your hair some love. With poker straight hair being a must-have style this year, it's important to minimise dullness. Serums that are jam packed with oils will keep your tresses look positively reflective.