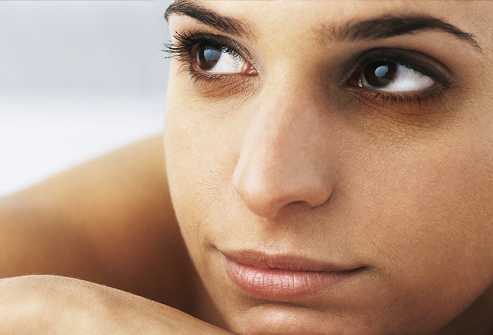 Looking for tips to hide under eye dark circles, bags, under eye darkness or droopy lids? Under eye dark circles, eye bags are pretty common in women. Under eye dark circles are caused by either genetic problems or due to lack of sleep or some other eye problems. No points for guessing that eyes being one of the main features of the face need special care. Taking good care of your eyes is important.
You may think that dark circles are for women above a certain age but that's just a myth. If you are a student who studies under the lamp late and don't get enough sleep, you too will develop dark circles soon. Same goes for all women who due to busy schedule are sleep deprived.
Covering Under Eye Dark Circles
There are two ways you can conceal under eye dark circles, either by makeup or by natural remedies. We won't be talking much about Laser treatments to hide dark circles.
Makeup Tips to Conceal Dark Undereye Circles
Concealer forms an essential part of applying flawless makeup. Concealer come in different shades, depending on your skin tone and amount of coverage needed, buy a pink or yellow tinted concealer. Green shade concealer is for red spots or severe coverage and hence is not needed for under eye dark circles. Use a shade of concealer lighter than your skin tone. If you are dark complexioned, you can easily use mauve or tan-colored concealer.
Based on your complexion, you must try the concealer before buying the product to ensure it suits you well. Your concealer and foundation together can easily hide your dark circles. Buy a cream based concealer and use a sponge or brush to apply it.
Cream concealer doesn't need that much settling as it glides easily. Make sure it is not cakey. Apply concealer only where needed and then apply your foundation over. Use a sponge or even your fingers to do your makeup.
Some women might choose to go the other way by apply foundation early and then concealer as your may not need that much coverage. Concealer is made of a better composition than foundation to provide more coverage. In this case once the foundation is applied, see how much concealer covers your under eye dark circles. Settle your make up with translucent powder to avoid it looking shiny in places and voilà you're done. Also learn 10 minutes makeup to conceal under eye dark circles.
A helpful tip for your eye makeup to look even better without dark circles is that, once you apply your eye shadow and liner, apply a hint of added concealer to your dark circles if needed.
Natural Home Remedies for Dark Circles Under Eyes
Looking for natural home remedies for dark circles under eyes? Well, there are plenty of natural homemade remedies available which can help you cover under eye dark circles.
Drink Right Amount Of Water
Drinking the right amount of water helps fade dark circles. Also eating the right kind of diet is necessary. If you are stressed most of the time and have been compromising on your diet it's about time you add necessary vitamins in your diet. Vitamin C and E include anti-oxidants that are essential for radiant skin.
Minimum 8 Hour Sleep
A bare minimum 8 hour sleep is important, give yourself a little break sleep for atleast 8 hours a day and you will notice those annoying under eye dark circles fading away.
Potato & Cucumber Slices
A well known technique followed by various beauticians, you should cover your eyelids with cold cucumber or raw potato slices for 10-15 minutes. Wash your face with lukewarm water afterwards. You can also place cold metal spoons over your eyes.
Cucumber Grate Juice
Squeeze out cucumber grate to get it's juice, now refrigerate the juice. Now, make a mixture of this cucumber juice, lanolin cream (if possible) and slight lemon juice. Apply the mixture on your eyes for 5-10 minutes before you wash if off. If you are in hurry you can simply apply light coating of lemon juice on dark circles and wash after few minutes.
Turmeric, Almond Oil, Crushed Mint
You can apply turmeric powder with pineapple juice, crushed mint or Almond oil over dark circles and then wash after few minutes.
Rose Water
Rose water is also an excellent agent to cover under eye dark circles. Soak cotton balls with rose water and apply on eyelids for few minutes.
Apart from these, if you looking for fast and permanent solution, laser treatment should be your last option.
We would love to hear your own tips to cover under eye dark circles. Please leave us a comment and let us know how you hide those annoying dark undereye circles with makeup.