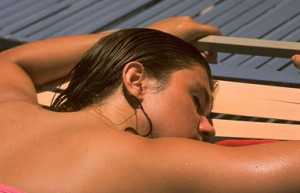 The sun-kissed look is always admired, and on some it can look absolutely fabulous. Have you wanted to tan safely which is consistent and efficient as well?
But How To Tan Safely?
To tan safely yet consistently there are various methods available. Today with technologies, product innovations, tanning is no longer the get out in the burning sun and tan yourself procedure.
On the contrary, with scientific research and lot of speculation, tanning in the sun has received criticism. Tanning too long or over exposure to the sun is said to be the cause for many skin problems including skin cancer. It may also result in premature wrinkling of your skin.
Tanning beds have replaced the loungers earlier so preferred method, now with tanning beds you can control the intensity of the tan and get it evenly spread out on either side of the body. But even this method is severely criticized by various people. The lounger and the tanning bed both are an option. But the easy to put product and even easy to remove is what is most preferred tanning method by women.
Safe Tan Procedure
A rule that applied to all tanning procedures is that you exfoliate your skin before tanning yourself or else the areas with dead skin will become rather patchy compared to the other parts of your body. Also, do away with any perfume or makeup skin it calls for irregular tanning. Otherwise, you will end up looking streaky. To avoid streaking, also use gloves when using tanning products or your hands will look stronger than your body.
Tan Safely Outdoor
For outdoor tanning or sun beds, apply a high SPF to avoid over exposure. For the outdoors, avoid timings between 12 pm to 3 pm as it's when the sun is the strongest and you may end up with a sun burn. Choose the morning time as the sun is much softer and can feel pleasant.
Lie on your front with sunglasses on for 15 minutes and then lie on your front for the same amount of time. Make sure you choose two days a week to tan yourself rather than do it every day. You can also use an SPF spray to cover all part of your body like your back.
If you are interested in using tanning products then you can either use a spray tan, lotion, gel at home or you can go to a professional salon to get spray tanned. Moisturize your skin before you tan yourself to cover any dry patches. After exfoliating though wait till your body has dry and then spray tan.
At home, use a good brand and not a cheap one. A huge plus point of product is that you can get a tan anytime when you want as well as it allows you to touch up if you want to be more tanned looking. Spray tans normally have moisturizers and vitamins in them to keep the skin glowing. A tan or an occasional home tan can even out your skin tone and make you look less pale.
You might also like:
I would love to hear your ideas on how to tan safely, efficiently and consistently, please leave me a comment and let me know.