Most of us want to look good. Whether we're trying to impress friends or land a date, we tend to care about our appearance in one way or another.
At the same time, many of us don't want to put effort into looking good. Maybe we feel it takes too long or is a waste of time. Or, perhaps we're just lazy.
The good news is that looking your best doesn't have to require a lot of effort. Here are three ways you can look stylish every day without even trying.
1. Stay Away from Trends
If you take away one point from this article, it should be to stay away from trends.
Why? Trends are trendy. They are only "in-season" for so long. After that, they'll be out of style and pretty much worthless.
If you want to adopt an effortless fashion sense, don't worry so much about the latest trends. It can be hard to stay on top of what's in and what's not.
Plus, if you buy something trendy now, it won't be stylish in a year or even a few months.
Instead of trendy clothes and accessories, opt for simple, classic pieces in neutral colors. They are timeless, and you'll get much more use out of them.
2. Make the Most of Your Accessories
If you're not big on fashion, you probably don't have a lot of accessories. Rings, earrings, and necklaces might not be your thing.
However, this doesn't mean you're without accessories. You probably have a lot more than you realize.
From glasses to vape pens, the everyday objects you carry around can affect your look. Be mindful when choosing these casual accessories as they can make a world of difference in your style.
Here are some ways you can use standard accessories to your advantage.
Glasses
First and foremost, pick a comfortable pair. You won't feel attractive if the glasses don't sit right or are continually falling off your face.
Ideally, the pair should be a neutral color. The neutral tones will allow the glasses to go well with just about any outfit you have. They should also suit your skin tone and face shape.
You can choose to purchase multiple pairs to give yourself options, but having one go-to pair will make your morning routine that much more effortless.
Watches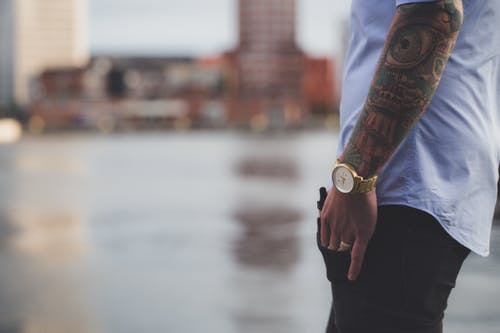 A watch is an easy way to make a big statement. The accessory adds to your look while showing that you pride simplicity and functionality.
These days, many men are opting for smartwatches. These accessories are sleek and simple, allowing them to go great with any outfit.
Smartwatches are also practical. Besides giving you the time, they're useful for managing your phone notifications and tracking health stats.
Not interested in smartwatches? Go the old-fashioned route.
Regular wristwatches are a fashion staple. The classic, subtle look is sophisticated, making you look effortlessly fashionable.
Vape Pens
If you vape, you have yet another easy way to accessorize effortlessly.
The right vape pen will complement your outfit and make a statement. On the market, there are various options, such as the DaVinci IQ2, that offer more than an excellent vaping experience. Their sleek, compact designs make them convenient to carry and seamlessly integrate with your look.
3. Don't Neglect Your Footwear
We'll leave you with one last crucial tip: for the love of God, don't neglect your footwear.
Too many men don't realize the importance of a good pair of shoes. Old, dirty, beat-up sneakers can ruin an otherwise exceptional outfit.
Consider getting a pair that is a little classier. It will enhance your casual outfits without going over the top.
With these simple tips, people will wonder how you're able to maintain such a good sense of fashion easily!