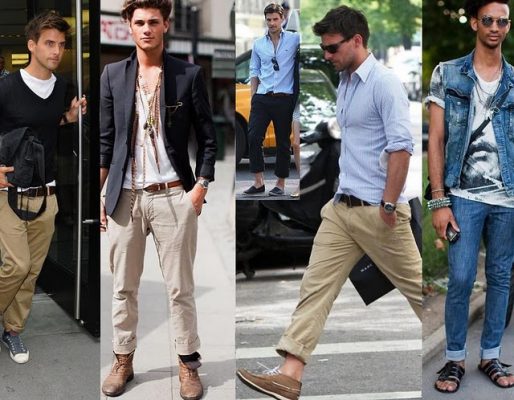 The smart-casual look is a classic men's style. But, it's harder to pull off than you might think. There are blurred lines here and getting it wrong could cause embarrassment. Too smart and you'll look like you've just nipped out from work. Too casual and you risk looking careless. The perfect smart-casual look is effortless and simple. In this post, we'll show you how to nail the style every single time.
Shirts
Shirts are the centerpiece of your smart-casual vibe. You'll need a good range of shirts in a variety of colors and styles. Your first option should be a classic blue Oxford shirt. They are timeless and will work with just about anything. You can match them with chinos and jeans, or dress it up with a jacket and tie. You could also opt for a collarless shirt to create a more modern look. Finally, one or two checked or plaid shirts, when worn correctly, make a good smart-casual impression.
Chinos
Chinos have long been the go-to choice for smart-casual trousers. They are sophisticated, classic and will pair up with all sorts of other clothes. You can wear them with the shirts mentioned above. You could try a classic polo shirt too. The best colors here are creams and navy blues. Simple and timeless.
Jeans
We're including jeans here, but with a major caveat. They must be well-fitting, smart jeans. If you don't get this right, you'll end up looking shabby. Remember, you're still looking for that element of style. Make sure they fit correctly and are in good condition. Avoid rips and unfashionable fades.
Brogues
The shoe department is where many smart-casual styles go awry. Accessories are the elements that will tie the whole look together. Get it wrong and it will appear frayed around the edges. You can't go wrong with classic brown brogues. They'll match jeans and chinos, plus they're comfortable too. If you need to dress it up, they look great with a navy blue suit too. Try to match the tan shoes to a tan belt for the complete effect.
Cardigan
You'll want to avoid jackets and blazers if you're looking for the smart-casual vibe. But, a cardigan makes a great alternative. Worn over an Oxford shirt, you'll nail the modern smart look effortlessly. Again, be careful with your colors here. Stick to neutral tones like blues and creams. Don't ruin the look with a brightly colored cardigan!
Tie
In some cases, a tie might just push you over the edge into smart territory. However, worn correctly, a tie can add a touch of character and personality to a casual style. Try rolling up your sleeves and adding a simple skinny tie. You could even design your own tie to suit the look. Just avoid those typical work ties and anything formal.
The smart-casual look is a timeless, effortless style. Despite its relaxed look, it's not easy to recreate. It's a careful balance of elements that need to come together as one. Don't worry, follow this advice and you'll avoid a major fashion faux pas!