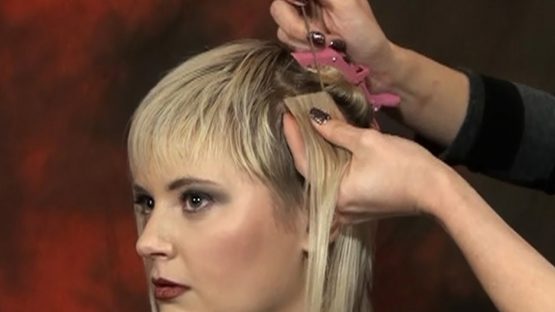 If you are like most fashion-conscious women, you probably put a substantial amount of thought into updating your wardrobe with new clothing and accessories. Have you also considered updating your hair wardrobe? If you only have one or two looks to choose from in your styling repertoire, then your hair is stuck in a fashion rut.
Imagine the Possibilities
A fabulously easy way to expand your hair wardrobe is with hair extensions. They are lightweight and made to blend seamlessly with your own hair. You don't have to sit still as a statue all night, either; clips hold them firmly in place so you can have fun and not worry about leaving pieces of hair lying on the dance floor. Here are a few different looks to get you started, but in reality the possibilities for new hair styles with extensions are limited only by your imagination.
Pony Tail: Pony tails are extremely versatile and you can style them to look messy, wavy, or straight. Pull your hair back and fasten it in line with the tops of your cheekbones, or switch things up with a flirty high pony. You can even position one to the side. A low pony at the nape of the neck creates a look equally appropriate for a casual or formal occasion, depending on the rest of your ensemble.
Long Braids and Buns: You can use the same hair piece designed for pony tails to create a single long braid or an elegant bun. For special occasions, try weaving ribbons and jewels into these styles for a sparkling, glamorous touch.
Fairy Princess: A braided one-piece piece headband that matches your hair color results in a romantic look that everyone loves. Bringing one braided piece from each side to combine in the middle is another adorable style that makes you feel like flower child or a fairy princess.
Go Long: If you have ever dreamed of having a fabulous mane of luxuriously manageable hair, you can transform your image with below-the-shoulder-length hair extensions. You also can clip in individual pieces just where you need them. This technique is a great way to add length and volume to your own long hair that may be wispy or damaged.
If social media friends who haven't seen you since third grade can recognize you instantly by your hairdo, it's time to mix things up a bit. Depending on your basic hair type, there may be little you can do to change the look of the natural hair that comes out of your head. Fortunately, hair extensions make it possible to add variety to your hair wardrobe.