Top 10 Mountains for trekking, camping, mountaineering, backpacking, rock climbing – Mountain trekking is an incredible sport loved by most of the mountaineers or backpacking enthusiasts. We have come up with the world's best treks which are awe inspiring, magnificent and at the same time very dangerous. Some of the mountains are pretty hard to climb, some can be visited by cable-ways or foot. If you love trekking or mountaineering you must be aware of the dangers, but those dangers can be minimized by solid preparation.
Preparing For Trekking, Backpacking
Before we look at the list of best treks around the world, lets look at we you need before even thinking about trekking such difficult places. Most of these natural beauties are very remote, have no means of transport so even help takes long time to come.
You would need to prepare in advance and be ready with compass, Camping gear, Survival kit, Trekking boots, proper clothing etc. Some places requires you to hire a guide and for some places you need to hire people to help you carry the weight. Unlike hiking, most of the time trekking would be a very hard and long journey on foot, so you need to understand the place, climatic changes, past accident reports, mistakes by others to jot down your mountain trekking plan.
Following is a list of world's best mountains for trekking loved by trekkers, backpackers, mountaineers, trampers and those looking for long distance trails.
1. Mount Everest, Nepal, Tibet & China Border
Mount Everest is the highest point on the Earth's continental crust. Being the highest mountain at 8,840 meters mount Everest attracts expert mountaineers. I have known few expert trekkers who even gave up the idea of climbing Mount Everest. Mount Everest is world's most difficult mountain even for the most expert mountaineers. Trekking is only possible till Mt. Everest base camp in Nepal which takes 3 weeks to reach the height of 5,545m approximately 18,193ft at Kala Pattar. You will be mesmerized to see 3 highest peaks on Earth (Everest, Lhotse Sar, and Lhotse) in one glance. Proper altitude acclimatization is necessary to overcome dizziness and survive intense climatic changes.
2. K2, China – Pakistan Border
K2 also known as the Savage Mountain is the second highest mountain in the world after Mount Everest. It has a peak elevation of 8,611 approximately 28,251 ft. You can begin your trek first crossing icy rivers, then Paiju (6,610 mt. approx 21,686 ft.), Uli Biaho (6,417 mt. approx 21,053 ft), Great Trango Tower (6,286 mt approximately 20,623 ft) and finally reach K2. Historically, K2 never recorded any climb in winters since it's almost humanly impossible.
3. Mount Kailash, Tibet
According to 5 major religions i.e. Hinduism, Jainism, Buddhism,  Bön faith and Ayyavazhi; Mount Kailash in Tibbet is one of the most sacred mountains in the world. According to Hindu religion, Kailash is considered to be the abode of Lord Shiva which lies near Lake Rakshastal and Lake Manassarovar. Although, there have been no recorded attempts to climb the 6,638 meter high Mount Kailash yet.
4. Mount Kinabalu, Borneo
One of the highest mountain in Malaysian Borneo, Mount Kinabalu is 4,095 meters (13,435 ft) high known worldwide for its tremendous botanical and biological species biodiversity. Best thing about Mount Kinabalu is that you don't require any mountaineering equipment to climb since it's one of the easiest peaks in the world which you can conquer. All you need is good health.
5. Mount Huang, China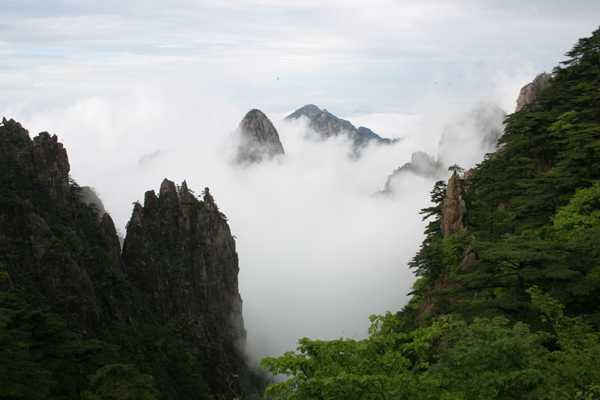 Mount Huang (Huangshan) is also known as Yello Mountain thanks to it's scenery, sunsets, peculiarly-shaped granite peaks, Huangshan Pine trees, and views of the clouds from above. The tallest peak in the Huangshan mountain range is the Lotus Peak at 1,864 meters (approximately 6,115 ft).
6. Monte Fitz Roy, Argentina & Chile Border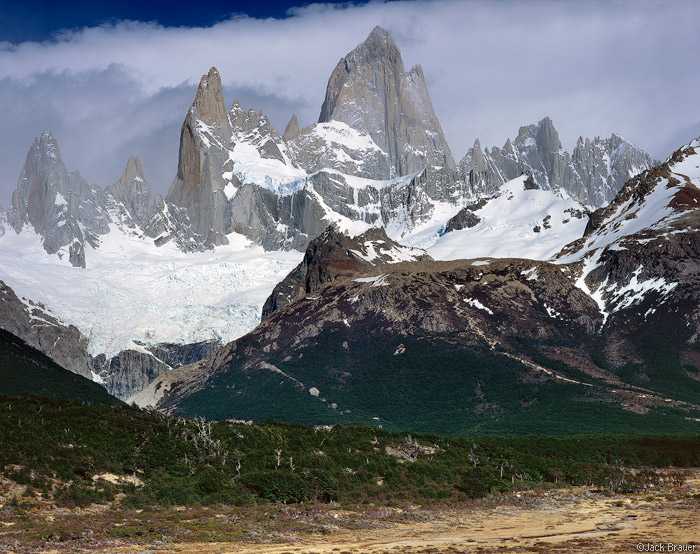 Monte Fitz Roy in Patagonia is a 3,375 meter (11,073 ft) high mountain which is extremely difficult to climb because of the sheer granite faces present long stretches of arduous technical climbing. In addition, the weather in the area is exceptionally severe and treacherous. There are various trekking tours available which can introduce you with Torres del Paine, Lagos de los Tres, Campamento De Agostini, Laguna Madre & Laguna Hija lakes, yellow wildflower laden forest, Cerro Torre and finally El Chalten. A word of advice, wake up early and don't miss the sunrise.
7. Mountains of Banff, Canada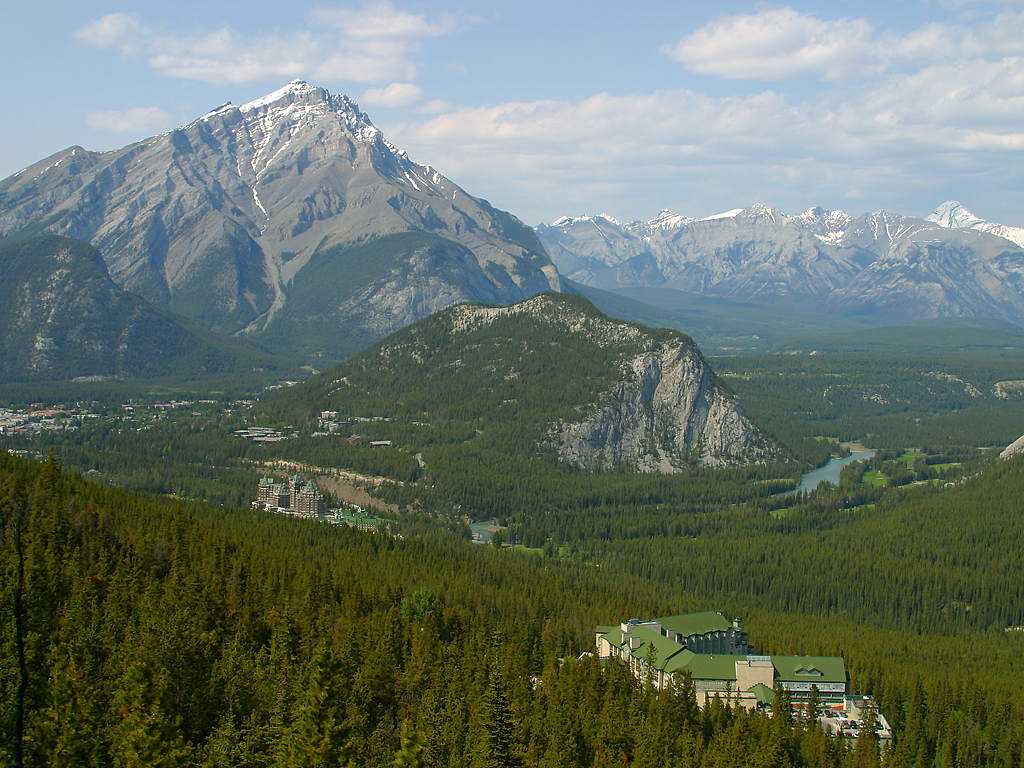 Also known as Matterhorn of North America. Banff's mountains exhibit several different shapes that have been influenced by the composition of rock deposits, layers, and their structure. The 3,618 meter (11,870 ft) high Mount Assiniboine has been shaped by glacial erosion that has left a sharp peak. Depending upon your hiking experience you can choose the difficulty level and trek as planned.
8. Matterhorn, Switzerland & Italy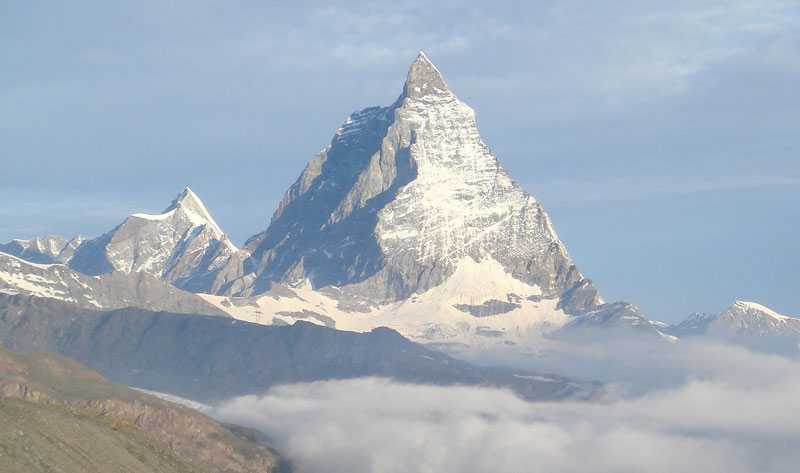 The Matterhorn is a famous mountain and an iconic emblem of the Swiss Alps. The mountain derives its name from the German words Matte, meaning meadow, and Horn, which means peak. With its 4,478 meters (approx 14,692 ft) high summit, lying on the border between Switzerland and Italy, it is one of the highest peaks in the Alps.
9. Table Mountain, South Africa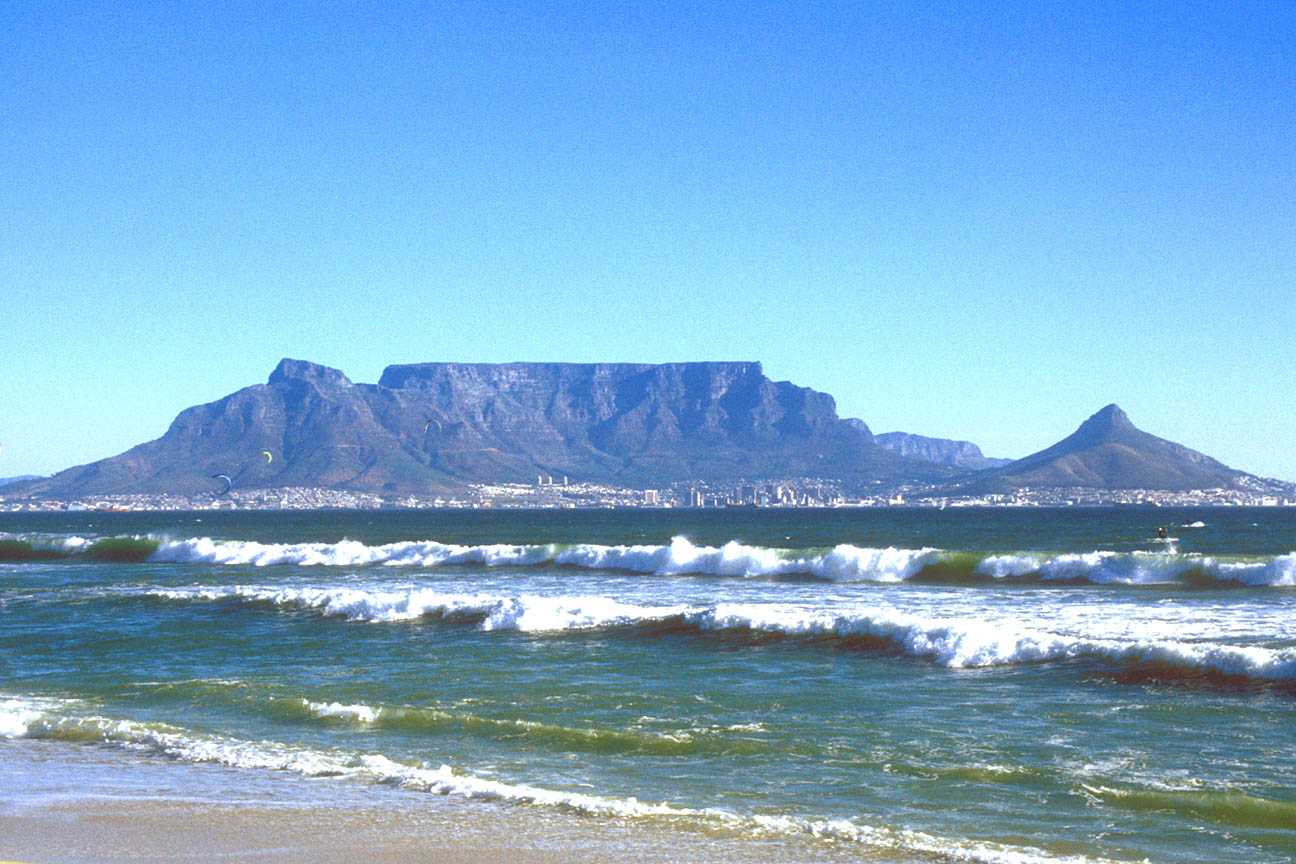 Table Mountain's main feature is a level plateau approximately 3 kilometers (2 mile) from side to side, surrounded by steep cliffs. The highest point on Table Mountain is 1,086 meters (3,563 ft) above sea level. There is a cable-way that takes tourists to the top of the mountain with views overlooking Cape Town. This is an easy 1-2 days easy hike which can be done with the help of a tour guide.
10. Aoraki Mount Cook, New Zealand
Aoraki Mount Cook lies in a national park of the same name which contains 27 other mountains which peak at over 3,000 meters. A popular tourist destination, it is also a favorite destination for mountain climbers. Best part about Aoraki Mountain trek, hike is that you can cover it in 2-3 days max with a very light backpack and experience the high alpine.
Bonus:
11. Drakensberg, South Africa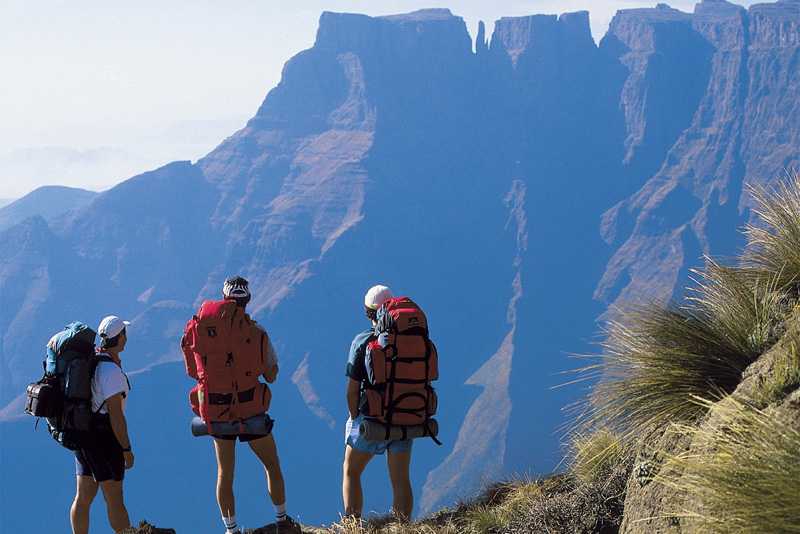 Drakensberg is the highest mountain range in Southern Africa, rising to 3,482 meters (11,420 ft) in height. It is perfect off-trail which test your endurance and can get you acclimatize for Kilimanjaro or Mt Kenya's Point John, Point Lenana.
12. Mont Blanc Circuit, Europe
One of the most popular mountaineering destination in Europe. Mont Blanc is popular with alpine enthusiasts since the late 18th century, this trek traverses several deep glacial valleys, as it winds its way through France, Switzerland and Italy, giving outstanding views of Mont Blanc en-route.
We would be thrilled to hear your trekking, hiking experiences of these Best Treks in the world. Please leave us a comment and let us know.