Are you looking for best eye makeup trends, ideas & tips? A perfect eye makeup can change the entire look and can add mesmerizing effect to your personality. Just transform your overall look this year by experimenting with bright colors, glitters, slivers, golden shades etc.
Eye Makeup Trends 2014 – 2015
There are various eye makeup ideas you can try this year but the following stylish & popular eye makeups are definitely trending. Some of these makeup ideas are simple but some require little practice. Why not start practicing these eye makeup trends and hone your skills?
Smoky Eyes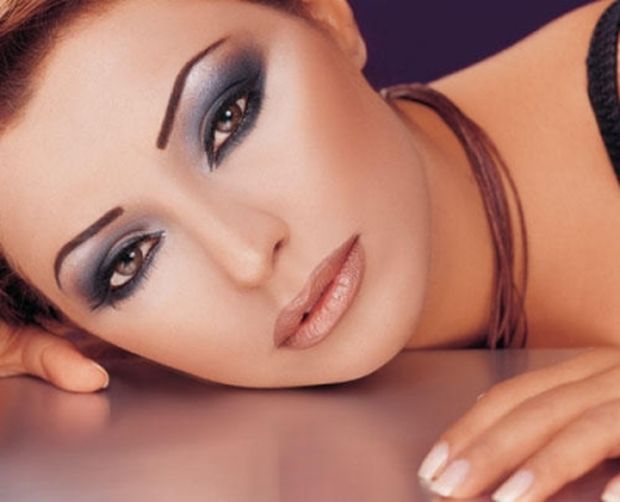 Classy smoky is quite glamorous, trendy and stylish,  which can never go wrong. Given below are quick and easy steps to get smoky eyes-
Apply charcoal gray powder in arch shape along the crease of the lid, Softly blend it to your lash-line.
Apply a soft black pencil to your upper lash line and  gently smudge  it with your fingertip.
Use a smaller, firm-bristle brush to  press the shade into the lower lash line.
Use silver powder on the inner corners to complete the look. Apply a pale silver powder to the inner corners of the eyes to lighten the overall effect.
Add some faux lashes and a coat of mascara.
Bright Color Eyeliner
This year you should experiment a  lot with bright colors. You can go with your favorite  eye  color (bright blues, yellows, and greens ) or you can  simply mix and match eye colors with your dress. You can either use eyeliner pencil to give it a quick touch or choose liquid eyeliners colors available with various brand.
Cat Eyes
Cat eyes are beautiful version of smoky eyes but require little less time that smoky eyes. Follow the steps given below to do perfect cat eyes for evening or night parties.
Tilt your chin up while looking down.
Just like smoky eyes you can choose non-traditional colors like blue, green to give your eyes a completely new makeover. Its not necessary that you always use black color, you should play a little and complement your eye makeup colors with your dress.
Apply the eyeliner by starting from inner corner of your lash line and go till the corner of your eye. Always draw an extended eye liner line and q- tip it for the perfect look.
Finally look in the mirror to check that eyeliner on both eyes are symmetrical and alike.
Add Some extra coats of mascara to make your eyes really stand out.
Glittery Eyes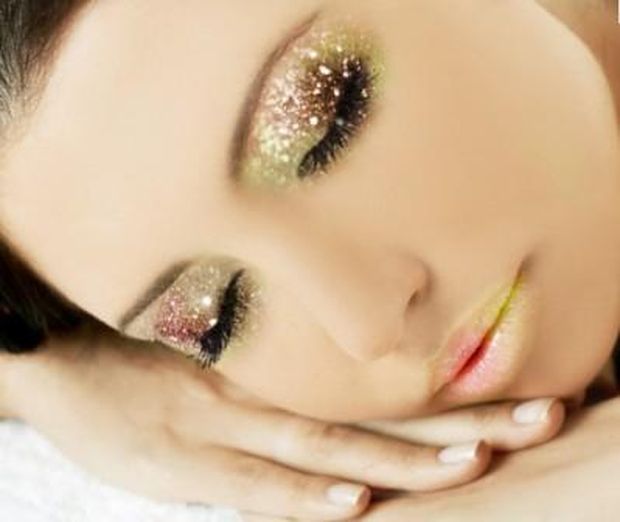 Glittery eyes are just right for a night parties. Use metallic color eye shadow on your eyes starting from inner corner of your eyes till outer corner. Do not use eyeshadow above the crease and finally complete the look by adding some glitters. Add some falsies (artificial eyelashes) and cover them with coat of mascara.
Golden Eyes
It's a myth that Golden eye shadows are only for discos. Given the right touch golden eye makeup can complement your overall makeup and for all occasions. Since wearing gold eye makeup is not easy as it looks, here is how you can hone your perfect gold eye makeup.
Apply light gold shade on the inner corners to the outer corners of your eyes.
Apply a brighter golden shade on the  outer 2/3 of  your eyelid.
Take a brown/ bronze eyeshadow and apply it as stated in step2.
Apply some of the brown/ bronze shade on the inner to outer corner. Finally blend it nicely with a brush.
Tap of the excess shadow. Apply eyeliner and fauxies (artificial eyelashes), apply mascara and here you are ready.
Keep in mind that if you are doing gold eyes keep your cheeks and lips neutral.
Create Layers Of Lashes
Ditch the all time eyeliner and shadow with lashes for a trendy look. You can start by applying first coat of mascara on your lashes, then, apply a full strip of falsies (artificial eyeliners) along your lash line.  In case you do not want to add a full strip, just add few clusters of lashes towards the outer corners of each eye to get the look. Apply another coat of mascara to complete the look.
Ombre eyes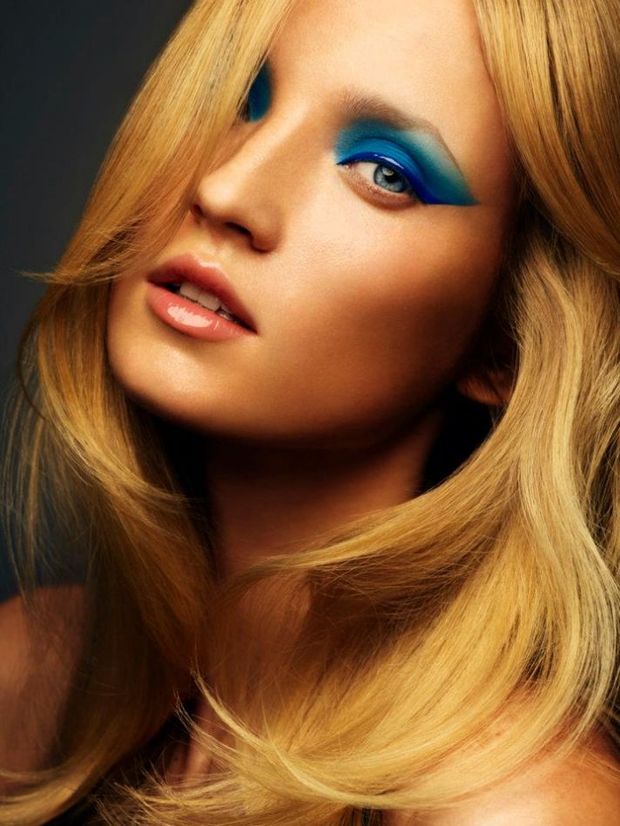 Ombre eyes is the latest fashion fad you will notice everywhere. Derived from French word "Ombre", it basically means colorful shading or graduation. Trust me when i say that creating ombre eyes is one of the easiest eye makeup look you can try at home. In order to get beautiful ombre eyes you have to carefully blend colors to mimic the way the hues of a flower bleed into each other. To achieve the look create dark layer of your preferred color near the lash line and as you move towards your brows keep it fading towards the top. Whichever color you choose for ombre eye makeup all you have to do is ensure that you are giving a perfect gradient effect by keeping darker at bottom and lighter shade of same color while moving up the eyelid.
Silver Eyes
Just like gold eye makeup you can always try silver eye makeup to give yourself a different look. Silver eye makeup is pretty chick that creates a pretty metallic, dewy & icy shades look by using a white cream shadow marked with silver. Finish the look with a black liner and mascara.
White Eyes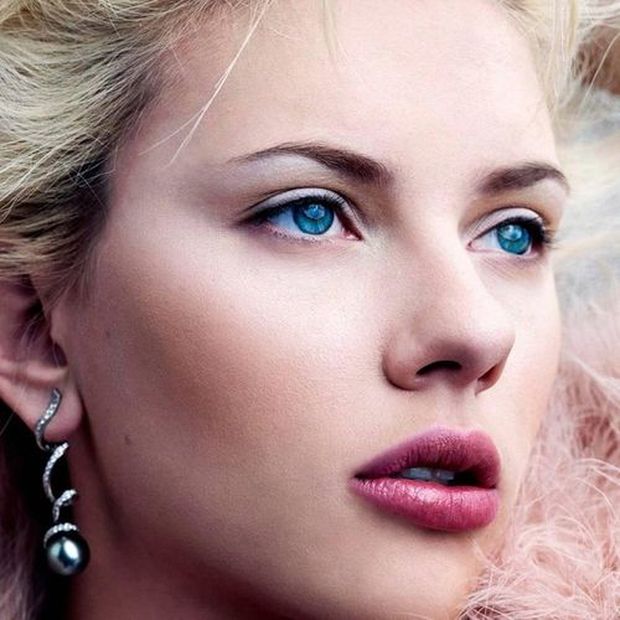 For a sexy look wear a white eye shadow with bare lashes (without mascara). Cover your entire eye lid with a white pencil, add white eyeshadow on top to complete the look.  This look is just perfect for a daytime party or outings.
We would love to hear your own eye makeup tips and tricks. Please leave us a comment and let us know how you create stunning eyes for different occasions.