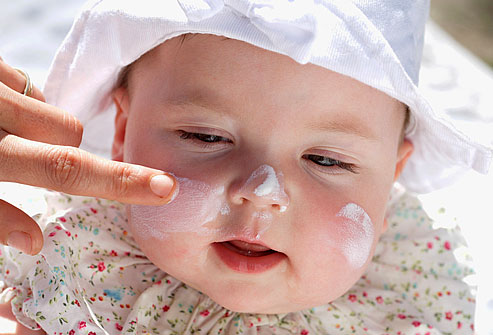 Babies skin are  very delicate, soft and fragile even a slight mistake can cause rashes, cradle cap etc leaving the baby irritated.  Babies  are prone to skin irritation in first few months. Being a mother we all take proper precautions but still sometimes baby products cause irritations. Always be very cautious while choosing the baby products. Moreover a slight precautions while bathing baby, a good after bath skin care can minimize the risk of skin irritation. Given below are few tips to help you –
How To Take Care of Baby Skin
All of us want to have baby like skin. We love to touch the soft skin of baby. Being so delicate baby's skin is susceptible to infections.  It needs extra care and protections. There are many things that you can do to protect baby skin. This article will give you some useful tips to take care of baby skin.
Baby is born with is a protective covering called vernix that peels off after some time. Peeling is a natural process. There's no need to remove it, rub it, or treat it with lotions or creams.
Avoid frequent bathing: Excessive bathing removes natural oils from baby skin, leaving the skin vulnerable. Babies do not get dirty except for drool and diaper change. Sponge bath is also a good option.
Massage: It is very important to massage baby. Use baby oils that are easily absorbed by baby skin. Massage is one of ways to show your love and affection to baby.
Protect from harsh sunlight and strong winds: Harsh sunlight and strong winds can create skin problem for baby. Always cover baby skin while traveling.
Wash baby clothes before they are worn: New clothes should be washed before they are worn by baby. Use a dye free, fragrance free detergent for baby clothes. Wash baby clothes separately from family clothes.
Don't use baby products in early months: The immune system of baby is developing in early months. Avoid any baby product in the early months.
Avoid exposure to chemicals and potential allergens: Keep babies away from areas where there may get exposed to chemicals or allergens.
Diaper: diaper rashes are one of the most common problems with babies. Use only good quality diaper. Check diaper every hour. Change wet or soiled diapers immediately.
Special care areas: face, neck area, nappy area, area behind ears need special care. These are the areas which that are prone infections and rashes.
Bathing is good for babies skin, but if not done in  a proper way can cause skin irritations in small babies. Given below are few tips to be avoided while bathing your baby so as to make bath enjoying and relaxing for the baby.
Tips To Avoid While Bathing Your Baby
Baby skin is so delicate and gentle that it needs very special care and attention. Bathing is a natural way of cleaning and keeping the bay skin healthy. Bathing not only removes dirt from the bay skin but also removes natural oil from the skin making it dry.
Mothers usually avoid giving bath to their baby daily. A daily bath if given with few precautions will not harm baby skin, but will only remove germs and dirt. Here are few tips to help you in giving daily bath to your baby.
Leaving your baby in the bath tub for long time makes their skin wrinkly which is not good so make sure you are not giving bath to your baby for more than 10 minutes.
Avoid using hot water for bath. Use lukewarm water as much as possible. Hot water is prone to dryness.
Soaps are harsh on baby's delicate skin, prefer using soap free cleanser or fragrance free soaps instead of soaps. There are various baby soaps available in market which are quite gentle on Baby skin.
Avoid leaving the baby in bath tub with cleansing bar or foam already present in the bath tub.
Bath oils makes the tub slippery, making it difficult to handle the baby because of its slippery nature, moreover bath oils are not good for baby skin. You can use the after bath baby oils if necessary.
Leave the baby in bath tub for playing in a soap free water to prevent his/her skin getting dry by soap water.
After Bath Baby Skin Care
Have you ever wondered why babies develop dry patches on their body inspite of all the care? Baby's delicate skins are at larger risk of losing moisture than adults. In winters indoor heating, dry air from outside and cold air reduces the moisture of your babies skin. Bathing also makes babies skin go dry.
Generally women try to take care of their baby's skin in all aspects whether its perfect soap, gentle towel, nice bath tubs or lukewarm water. Still you must have noticed that despite all your efforts you sometimes see a dry path on baby's skin .
Given below are few precautions you should take in bathing a baby to reduce skin dryness
As soon as you are done with the baby's bath wipe the baby gently with a soft baby towel and apply moisturizer.
Moisturizers are very good for baby's skin and prevents any chance or loosing moisture from baby's skin. Make sure you apply the moisturizer immediately after the bath.
Moisturize the baby skin twice a day – after the bath and once during a day to reduce dryness.
Chlorine and salt present in pool water is very harmful for baby skin. Apply moisturizer on baby's skin immediately after coming out of pool water.
Dry air is very harmful for baby skin. Use a cool mist humidifier to reduce air dryness and thus helps in reducing the chances of drying the baby skin.
Use mitten to cover baby hands in winter. Keeping the hands covered will protect baby skin from coming in contact with cold, dry air.

How To Buy Baby Skin Care Product
You love your baby and taking his care is your first priority. All the marketing guys out there know this fact. They try their best to sell all type of products. Do not just buy a product by looking at their advertisements. Understand your child's need before purchasing any product. Ask yourself, do u need this product? Is this right for your baby?
Newborn baby skin is very delicate and sensitive. His immune system is not well developed. There are a lot of chemicals, cosmetics, dyes, fragrances, detergents and baby products that can cause newborn skin irritation, rashes and dryness. Baby skin do not need many product, selectively choose from the list below. Use only a small amount. Consult your doctor for any medical conditions.
Baby soaps, washes/cleansers & shampoos: These items are used to clean the baby. Your baby is not going out, he do not need much cleaning. Excessive use of these products deprives his skin of natural protective substance already present in his skin. Ensure that these products are very mild and clinically proven.
Baby lotion: may be used to moisturize newborn skin. Take into consideration your baby skin type while buying a lotion. Weather conditions may make it necessary to use baby lotions.
Baby oil: They are used to massage newborn skin. Many formulas available choose the one that suits your baby's skin. They are not moisturizer.
Petroleum jelly: They provide baby's skin with a shielding barrier. They help preventing natural moisture of skin. They can be used to treat diaper rash.
Baby laundry detergent: Regular detergents cannot be used for baby clothes as they are too harsh for babies. Use baby detergents that are free from dye and perfumes.
Baby powder: Baby powder may be used to keep his skin dry. Talcum powder can cause lung problems if inhaled, avoid using them.
Diaper rash ointment: Diaper rashes are one of the most common skin problems of babies. These ointments cure diaper rashes. Consult your doctor if diaper rashes are there for long.
How to Choose Baby Skin Care Products
We all take extra care of our babies. That is why you are reading this article. You want to choose best and the cheapest product for your baby. Your child deserves only the best. To make an informed decision about the products read the information on the package carefully. If sufficient information is not there ask the store or manufacturer. Buy only products from reputed manufacturers. Take care of following points when buying a Baby Skin care products
Advertisements – Do fall not prey of good advertisements. Be aware of claims. Check if the claims are supported with real evidence.
Read labels carefully – Baby skin care products that contain chemicals, dyes or fragrances can cause skin and breathing problems. Buy only chemical free, fragrance free and dye free products.
Natural baby skin care products are safe for most infants – Choose products made from natural ingredients. Natural products are best suited for delicate skin of babies.
Allergies –  If you have a family history of allergies or asthma, your newborn may also be sensitive these. Avoid any such product that may be a potential source of allergy.
The label "hypoallergenic" – means that the product is less likely to cause an allergic effect. It does not necessarily mean the product is safer than on the skin than other products.
Medically endorsed – If the product is endorsed by medical associations, then verified by qualified doctors. Such products would mean that product is safe for your baby.
Clinically proven products –  Some products are clinically proven, this means that their claims are established. Such products are more trustworthy.
We would love to hear your own tips on how to take care young babies. Please leave us a comment and let us know.