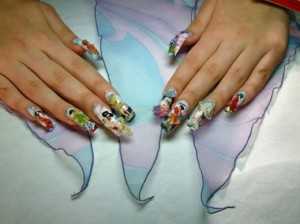 You may have heard of the usual types of nail art like the acrylic, gel, airbrushed nails. We are here to tell you about a few you may not have heard off. A lot of women have already begin to do nail art on their own or simply go by what the manicurist says.
Most of time we learn our jargon from our salon artists and that is how we are aware of most of the stuff even about nail art. But, due to complexity or less knowledge about various other nail arts even the top salons don't tell us or practice these. In this article i am going to tell you about few other nail arts which are less popular or less known. Konad nail art, ceramic nail art and water decals are among those nail art designs which we will discuss in detail.
Now, let's talk about what some nail art designs you may not have heard of –
Konad Nail Art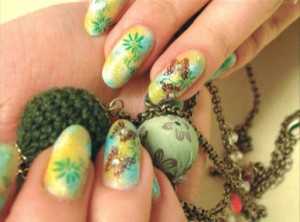 The coming about of a hi-tech application has enables Konad nail art. Technology alone is majorly responsible for the introduction of this art. Using various konad tools a manicurist can create fast and intricate and beautiful designs for the client
The Konad main tool is the image plate which offers the ability of lifting detailed designs off the plate. The nail artist paints on the plate using a special Konad nail paint and uses the design then once done tby using the stamp technique on to the nails of the client.
This way of creating a design gives the artist the freedom to innovate and create new designs and also get fast sassy designs on to your nails.
Ceramic Nail Art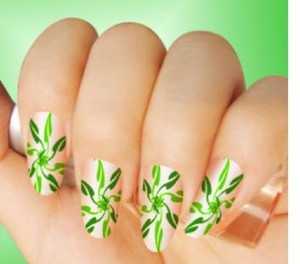 You think you haven't heard of this but no you already know about it and may have also tried it. Ceramic nail art is nothing but use of ceramic Fimo canes to create cute and fun easy designs for the client. Ceramic canes or fimo canes are made using the human hand.
Some of the popular and easy designs that can be done using these sticks are fruits, flowers, icons, faces, sweets, animal or creatures like the dragonfly, butterfly, unicorn etc.
Typically ceramic nail art designs are sold directly and you can see which one's you are interested in.
Water Decals
Decals you have heard of, water decals may be you haven't. Decals are stickers used by amateurs or even nail artists to do designs in salons. Easy to wear, quick to do, not high maintenance. If you are a beginner you must have tried decals already. For every weekend or every look, you can have a sporting decal.
Another way of using decals is going the water decals way.
How to use Water Decals?
Soak your fingertips in water or use a wet cotton swab to loosen up the backing of the decal. Next once when you are sure it can glide off, use your thumb or a cotton bud or a pair of tweezers to get the decal off. In its place, you will have the shape of the decal, only an imprint left adorning your nails.
It is a great technique used by most beginners to make beautiful yet simple designs. I would love to hear your experiences of these unique nail art designs. Please leave me a comment and let me know. Don't forget to subscribe our RSS to receive latest nail art updates.