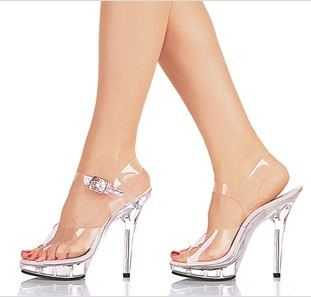 Diamante Shoes are very elegant shoes which are in huge demand these days because of their unique styles. Those who are very pragmatists and realistic may not find diamante shoes very appealing but for all others these shoes are very cool. Diamante shoes look very good if you wear them with woolen skirt giving a perfect style. Diamante shoes are very different than ordinary shoes as these provide some magic, experation and fantasy to your persona. If you are enthusiastic enough you can embellish your shoes giving them even more perfect look to make other women jealous of your style.
A designer diamante shoe doesn't look good with baggy jeans or casual pajamas. These shoes compliment well with classic, urban and chick wear clothes rather than tomboyish look. Sexy Diamante shoes goes very well with accents look or shimmering tones which gives very good look. Those who love chiffon dresses can wear diamante shoes with pastel colors or turquoise blue colors. I have seen even brides prefer them sometimes.
Diamante shoes are very striking and looks elegant so don't waste any more time on old fashioned high heels, platforms etc. and buy yourself an elegant and striking Diamante shoes which may do wonder for your personality.
Chuck you ballet pumps and ankle boots. If you still want ballet shoes get ballerina flats with diamante. The finest option to look spectacular this year is to get silver diamante shoes. They are sure to carry you this season and year round and may be much later than that. Now is the time to look feminine and charming and feel like a woman again. Designers are coming up with more graceful clothes and this new trend will make feminine and elegant pair of diamante shoes a must-have.
Please leave me a comment and share your experiences of Diamante shoes with us. Subscribe our RSS to receive latest women footwear fashion updates.