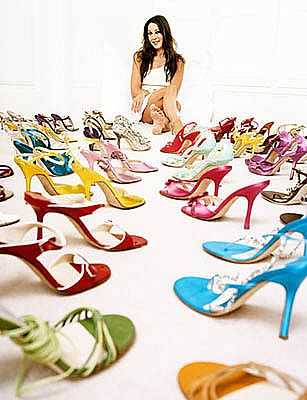 It is quite evident that a bad pair of shoes can ruin your perfect dress by looking awkward, similarly a nice pair of matching shoes can enhance the beauty by setting a style statement. If you are wearing cool and stylish shoes you will feel confidence from inside and that would reflect on your walk. In this article I am listing top 8 types of shoes which will enhance your persona and style. So, if you are the one who do not fear experimenting a bit then these shoes are at your disposal.
Red Shoes: One of the most preferred and hip hop shoes of all times. These shoes are real confidence builder. Best thing about these red shoes is that you can wear these on various dresses as they come in different shapes and style. It doesn't matter if you choose Red Sandals, Red Pumps, Red Platforms or Red Classic High Heel. All you have to do is wear them confidently and gracefully.
Silver Shoes: Also amongst one of the favorite shoes, silver shoes can be worn over many dresses and for different occasion. Silver high heels, Silver sandals, Silver Platforms are amongst few popular shoes. Silver sandals are so popular that you will see many celebrities sporting them from time to time.
Leopard Print Shoes: You cannot miss to have leopard printed shoes in your wardrobe which are simple but stylish. Platform shoes are very popular if you are choosing leopard printed shoes.
Gold Shoes: Girl's can't resist buying gold shoes which are very stylish and elegant. Gold pumps and sandals are amongst the top variant which sells as hot cake. Being a gentle color gold resembles power, wealth and style. Glittering gold shoes are in high demand which suits to some designer dresses.
Black High Heels: One of the most common and widely used color is black which you can see women wearing most of the time. Black satin high heels, pumps and sandals are really cool which enhances the person and provided needed grace to any dress. These high heels ensembles feminine and elegance which attracts everyone.
Sandals: Every women must be having sandals in her wardrobe but if you are going to a party then wearing black sandals on a dance floor will be easy and attractive.
Platform Shoes: Readily available in different colors and brands these are great to help in setting a style statement.
Satin Shoes: These satin shoes are used typically in special occasions, festivals etc. but these are truly amazing and stylish shoes which are built from satin.
Please leave me a comment and share your experiences of wearing these stylish shoes. Subscribe our RSS to receive latest updates on Women's footwear fashion.