Children spend most of their time outdoor. So, being a parent, it is your duty to take care of their eyes from harmful ultraviolet rays. Learn how to choose sunglasses for children.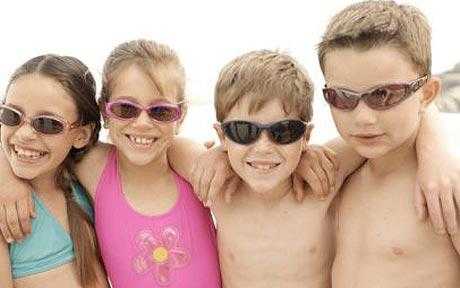 Some children are not as interested in fashion as adults are so teaching them importance of sunglasses is important. To protect children from ultra violet rays, it is very important to buy a pair of sunglasses for them. Sometimes, choosing the right pair of sunglasses for children can be very confusing because there are so many options in the market. There are so many things to take care of before buying sunglasses for your kid.
Lens Colors – You can choose the color whichever you like. But there are some sunglasses that block the sun's HEV rays are amber or copper in color. By blocking blue light, these lenses also improve contrast, a positive trait for outdoor sports and cycling.
Frame – Generally kids play hard as compared to the adults. So, it is good to choose rubber frames. These are very soft and flexible and your kids won't break them every now and then.
Styles – There are so many shapes available like oval, round, rectangular and geometric shapes. These shapes are in very sophisticated color like green, black, blue. For kids metal frames are very popular. There are sporty styles for kids like wraparounds are also available.
Accessories – When you choose your sunglasses, always learn from the optician that how to care for them. Generally, optician will provide you cleaning cloths, a protective and a solution, hard-shell case to store the sunglasses in when they are not worn. Generally sunglasses protect your eyes from snow glare. So, it is good to choose polycarbonate lenses because it is shatter resistant. You can also buy sunglasses cords, which are attached to the temples of the sunglasses so that when removed, the sunglasses can hang from the neck and not get misplaced.
Check Properly – Always choose the glasses that fit properly. Try them properly on stores. Because it doesn't fit properly, your child is less likely to wear them.
Let Your Child Choose – Let your child to choose the design. If he likes them, he is more likely to wear them as needed when outside.
Protecting the eyes of your children from ultraviolet harmful rays is important, so whatever it takes to make him ready to wear is the key.
We would love to hear your thoughts and experiences of choosing sunglasses for children. Please leave us a comment and let us know.