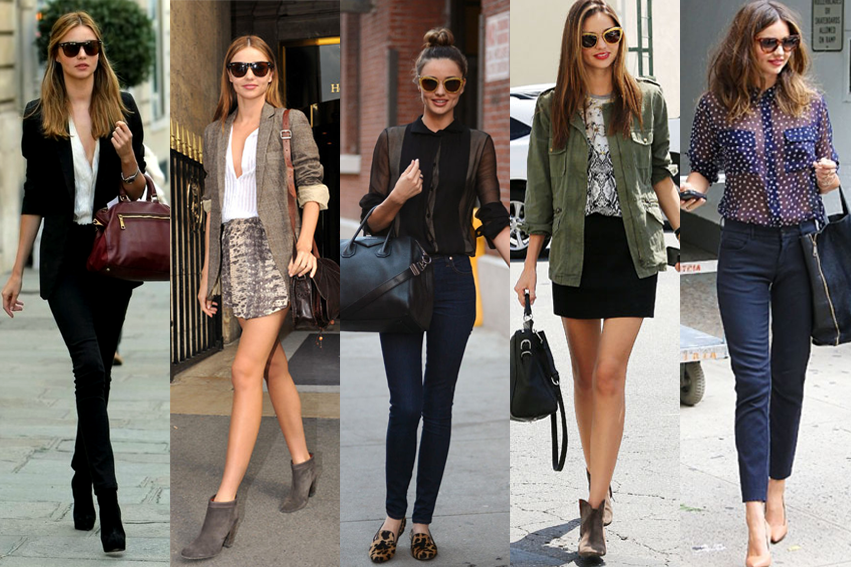 We recently published an article for how men can achieve the smart and casual look, but what about the ladies? Even though smart-casual is currently trending in men's fashion, there are always moments in our lives where we ladies need to rock the smart-casual look too, and here is how to do it!
The Tops
As far as shirts go, getting the casual cool look just right has a lot to do with finding the right type of blouse, something stylish yet understated like these options, which is not t-shirt casual, but is also not a business button down. Some dressier options work really well, especially if being paired with a quite casual and light wash pair of jeans. Knitwear can work well too. A chic sweater paired with black skinnies and heels can go a long way. Or, a simple and timeless cardigan instead of a blazer can really relax the look without losing that smart appeal either.
The Bottoms
Although you can get away with some understated dress pant designs, that borders more the business casual look. For nailing that smart-casual look, which is a little more relaxed, go for chino or kaki options. The right pair of jeans can also work really well, just remember to not lose the "smart" aspect of the look. Ideally they should be a clean look – in other words perhaps a classy skinny over ripped boyfriend jeans. Dark washes tend to work really well if you're going with a more casual top. However, light wash works well if paired with a dressier top. Just play around and have fun with it. It's also never a bad idea to mix it up with a skirt or a dress. Dressier dresses can be toned down with a denim jacket, while a denim skirt can be pumped up with a dressy blouse or blazer. Just remember to always keep that smart-casual balance in mind.
The Footwear
Keep it relaxed. Going for a sneaker or sportswear is not only easier on your feet, but has been one of the biggest trends this year, both on and off the runway. Never have we seen such a presence of sneakers in high fashion before, but we are certainly getting our kicks out of it (pun intended) and are quite happy with the development. Sometimes all you really need to tone down a smart look to a casual level is a good sneaker. On the other hand, if your look is already toned down, then elevate it with chic Oxfords, pumps, or Mary Janes. Don't be afraid to go for comfort!
The Accessories
Toss the clutch in favor of a backpack or tote. Not only can you get some gorgeous, lux backpack designs that add that touch of class, the easy hands-free aspect of these types of bags adds to the ease and comfort of the smart-casual appearance you're going for. Plus most designs actually have enough room to hold everything you need to bring you from day into night. Prada, Frye, Alexander Wang, Kate Spade, Coach, and Michael Kors all have very nice options that would complement a smart-casual wardrobe very well.
Aside from the bag, jewelry is always a great place to play around with styling a look. Going for clunky statement pieces can not only add that pop of color or glitz to a simple and toned down outfit, but it can jump up the smart appeal of the smart-casual look. That being said, sometimes all you need is a really spectacular watch to pull the whole thing together. A lot of accessorizing depends on personal preference, so don't feel that jewelry is a must for nailing the smart-casual look.
Ultimately, the secret to smart-casual is to keep it comfortable with simple items that can be dressed up or down. Especially when it comes to the footwear, keep it relaxed over power stilettos, and keep the wardrobe tones rather neutral – greys, creams and blacks work well, while metallic accents give the outfit that chic pop the make it smart-casual instead of just casual. The finished look should evoke an air of effortless chic with a touch of comfort and class. Try it out for yourself today!