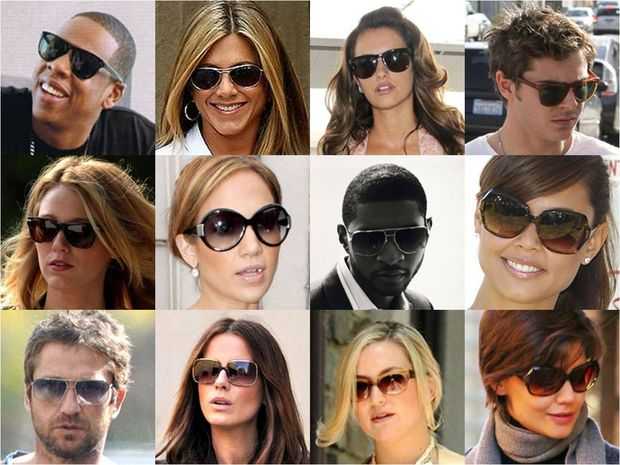 Celebrities are often spotted sporting designer sunglasses especially crafted to match their personality, face type and mood.  Famous sun glass manufactures keep the style, mood and taste of the specific celebrity in mind while designing a perfect sun glass for them. Once these specially crafted sunglasses are worn by your favorite celebs are shown in TV or some magazine, the demand for these stylish sunglasses rises. Not only these sunglasses protect the eyes from harmful ultra violet rays of the sun but also helps in setting a style quotient. Following are the most famous and reputed designer sunglass brands.  Leann all about top 10 designer celebrity sunglasses.
Dolce&Gabbana Sunglasses – These sunglasses are the perfect accessory to bop up your spring/summer attire means any time of the year. The cost of these sunglasses is very high. So before making any decision, check out your budget first.
Chloe Charmed Sunglasses – These are retro-inspired sunglasses having pink lenses which are unconventional and also the sexy way of protecting your eyes from UV rays.
Prada Silver Rimmed Sunglasses – These sunglasses are best for sports person. These sunglasses give you comfort over fashion. It gives you full protection from the UV rays of the sun and also gives you a sporty look as it is convenient for your life style.
Marc Jacobs Tortoiseshell Framed Sunglasses – These are very classy sunglasses and look elegant. Its square shape exudes that classic flair and it's perfect to wear with a dressy get-up.
Stella McCartney Metallic Striped Sunglasses – These pair of sunglasses gives you sexy look and also very stylish.
Roberto Cavalli Cercione Aviator Sunglasses – These aviator sunglasses gives you classic look. These are very well-designed and sophisticated.
Miu Miu wraps rectangular Sunglasses – These are rectangular shapes and tortoiseshell frames. If you fed up with the oval sunglasses then these sunglasses will be best for you.
Chloe Nyssa Sunglasses – These sunglasses are oversized and if you prefer simple sunglasses but still want that extra oomph then these ones would be best for you.
Oliver Peoples Skyla Sunglasses – These sunglasses give glamour's look. So, if you want chic vintage look, these shades are best for you.
Bottega Veneta Oval framed Sunglasses – These sunglasses are classic oversized oval framed shades. This is the perfect accessory for any dress.
So, which one if your personal favorite? Please leave me a comment and let me know. Subscribe our RSS to receive latest updates on Fashion and Style.