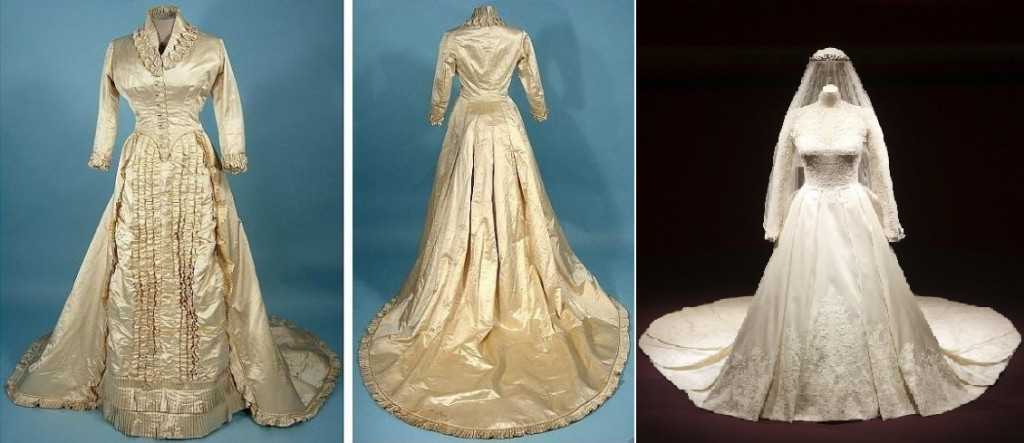 Wedding gowns remained essential in every marriage traditions since the medieval times. By wearing the perfect wedding dress, every bride will surely look stunning and perfect on their big day. For most women, wedding is perhaps the most memorable and celebrated day of their life and the success of it greatly depends on every meticulous detail including the selection of the wedding gown.
The term "bridal gown" was coined during the 1930s, which was a decade of glitz and glamor.
1. First wedding gown in 1406: The first recorded wedding gown was worn by Princess Philippa, the daughter of Henry IV in 1406, according to Discovery's TLC. – used by wealthy and royal women.
2. Different styles: hemlines, colors and fabrics became popular- wedding gown become popular among common women.
3. Wedding Gowns in 1500's: – Sleeves, waistlines and the shape of gowns changed. Puffy sleeves gave way to fitted sleeves and back again. Corsets and petticoats merged into higher waistlines; then it was on to slimmer skirts and then back to princess fairytale shapes again. Trains and garters became traditions during the 1500s.
4. Wedding Gowns in 1800's: During the 1800s wedding dresses highly resembled everyday fashion. Velvet, silk, satin and fur were commonly used in wedding dresses for those who could afford such fabric, into the late 1800s.
The mid-to-late 1800s: saw organdy, tulle, lace, silk and linen.
5. Wedding Gowns in 1900's: Polyester, taffeta and double-knit gowns were introduced during the 1900s. (Type)
6. Wedding Gowns in World war 1 era – women often wore their best suit, or rented one for the occasion. The Great Depression devastated America and weddings were no more considered a celebration. It wasn't proper or practical to spend a great deal of money on a dress.
Wedding Gowns in World War II era – Economic struggles continued. Marriages were considered as expensive waste. Brides in the military generally married in uniform while civilians wore their "everyday best." White wedding gown disappeared and bride borrowed and rented previously worn dresses.
7. Wedding gowns in 19th century: The informal wedding dress became popular after the pop revolution of the 1960's.The informal wedding dress evolved to a more elaborate wedding gown during the 19th century, adding later the tradition of wearing a mother's wedding dress in the ceremony as a sentimental and acceptable option.
1956: with the wedding of actress Grace Kelly to Prince Rainier of Monaco- Kelly's highly publicized floor length taffeta, tulle and antique lace Victorian gown appeared and admired by ordinary brides.
Late 1960s and early 1970s were marked as a time of "non-wedding wedding dresses." Traditional gown sales felled as free-spirited brides chose imports reflecting the ethnicity of other cultures, such as festive dresses from Mexico or embroidered Indian garb.
1980's ushered in another nod to Victorian fashion with the wedding of Princess Diana and Prince Charles. Diana's billowing skirts with cathedral-length train and demure veil brought romanticism back to wedding fashion. Brides charmed with the look dismissed frugality in favor of the fairy-tale gown. With this shift in priorities, wedding gowns became intricately detailed and far more expensive.
8. Wedding Gowns in 20th century: brought a new type of bridal gown, with a slight trail of fabric behind, and confectioned with embroideries, laces such as Venice, Honitan, and the popular Chantilly with reminiscences of different previous weddings styles.
Colors:
Wedding dresses were bright and colorful depending on the bride's family financial condition.
Wedding Gowns before mid-1800's– brides opted for gowns dyed purple, red or even black as those colors signified wealth and prosperity. Many brides chose to wear blue dresses, because it was thought to bring good fortune, prosperity, faithful husbands and fertility. Blue represented purity, and was the color of choice for wedding gowns until Queen Victoria wore a white wedding dress in 1840. She was also the first bride to have her bridesmaids carry her train. Since then white became the popular color for wedding dresses particularly in United States and England. Floral, strips and plaid-patterned dresses were largely worn until the turn of the century, when department stores and catalogs made it easier for brides to purchase white fabric and patterns. White was eventually known as the color of purity and remains the most popular choice for wedding gowns in the western culture. Queen Victoria's dress sets a new standard.
Size: Gowns were typically floor length
Wedding Gowns in 1920– The first wedding dress came above the knee, made by CoCo Chanel.
After World War II – floor-length gowns made a comeback as clothing, like other things were rationed.
1970s- Bell bottoms and pants suits were introduced as bridal attire. Actual dresses and skirt suits were worn side by side.
Modern generation Wedding Gowns: Today's generation brides wear gowns that reflect their style, personality and formality of their wedding. Brides even have worn shorts, bikinis, miniskirts, ball gowns, jeans or simple suits to exchange vows.
Shapes have also changed and offer different hemlines, waistlines and shapes so that every bride can choose the dress that will fit her own idea of what her wedding should look like. Dresses come in plethora of styles which include:
Fitted sheaths in clingy silks
Flowing chiffons with empire waists
Satin sheaths with romantic lace overlays
Victorian-inspired, boned bodices with elaborate beadwork and sweeping trains
Any color can be chosen though white and shades of white remain the most popular wedding gown color in Western culture.
So, what's your thoughts on wedding gowns. Please leave me a comment and let me know. Subscribe our RSS to receive latest updates on women's fashion.