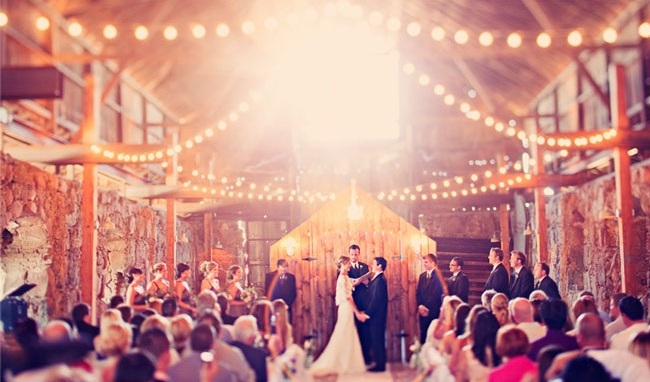 Barns may not be the first type of venue to spring to mind when you think about glamorous weddings, but you might be surprised by how well these traditionally rustic buildings can scrub up if you're considering an elegant wedding with a difference.
Often located in the midst of country landscapes, barns have a simple rural charm that, perhaps surprisingly, can be ideal to begin with as a blank canvas for a chic and unique big day celebration.
Elegant Barn Weddings, Decor & Planning Ideas
Looking for perfect barn weddings ideas, tips? Here are some top tips for turning a bland barn into something bold and beautiful for your wedding.
Keep it Classic
For a glamorous barn wedding in a rural setting, think about keeping many elements of the big day classic. A beautiful yet understated white dress for the bride and a formal suit for the groom, along with pretty but simple attire for the bridesmaids and other members of the wedding party, will ensure subtle elegance ensues on your big day, fitting in with the simple charm of the setting.
A classic vehicle for getting to and from the wedding in a pretty or neutral shade such as cream or sky blue can also tie in well with your plans for an elegant big day; a modern hummer, for example, might be too mismatched for the setting.
Meanwhile, for perfect barn weddings a traditional tiered wedding cake should be the order of the day, but you could add some glamor by having a posy of roses on top and the edges of each layer decorated with edible pearls.
Add Natural Elements
To fit in with the natural setting, work nature into other elements of your nuptials, such as your clothing and the decor of the venue. Flowery garlands are pretty for bridesmaids' hair and echo the natural theme of the setting, while wildflowers in jam jars decorated with frayed silvery ribbon can make for beautiful yet understated table centerpieces.
Alternatively, instead of fresh flowers, you could choose paper roses formed into balls and placed in the top of tall glass vases and festooned with pearl garlands for the middle of each table.
When decorating the barn weddings venue, keep it simple to maintain an air of elegance. Wood is an ideal material to use being both simple and natural, and you could place planks of wood through the center of each table with vases of flowers, plants, wicker tea light holders, decorations and place cards on top. Alternatively, use discs of wood emblazoned with your guests' names as seating markers.
Accessorize with Sparkle
You may want to avoid having a wedding day that is too showy but equally you don't want proceedings to be too austere, so add a little sparkle here and then to enhance the event's glamorous edge.
If you're keeping your dress simple, add some eye-catching earrings or some jewels in your hair for a chic touch, while a vintage diamante brooch might be the perfect addition to your bouquet. In the venue, a beautiful crystal chandelier can be a real focal point in an otherwise simple barn, and you might decide to have garlands of pearls strung up from the beams to add some pretty touches.
Vintage items like gilt-edged teacups filled with scented candles, antique picture frames and notes on parchment decorated with antique gold chains are all accessories that are both rustic yet elegant, as are elements of lace, which you might want to incorporate into tablecloths or seat covers.
We would love to hear your own barn weddings experiences. Please leave us a comment and share your ideas, tips with us.