Gentlemen, if you've decided that she is the one you want to spend the rest of your life with, congratulations! No doubt by now you've thought of the perfect place and the perfect time, but have you got the perfect engagement ring? If the answer is no, not to fear! Let's fix this right now!
Get The Budget Right
While a girl will opt for the most expensive one in the world, we know that this is out of your price range unless you're the Sultan Of Brunei. So you have to establish a budget before you even set foot in a jewelry store. And while they say that you should spend two months' salary on a ring, this was a marketing ploy set up by the DeBeers Company.
Remember, it's not the amount of money you've spent on the ring, it's the thought that you put into it. It's a symbol of your love at the end of the day, and you don't have to get in debt to show her that you care.
Research The Style
There is no point going for something big and heavy if that's not what she's into. Again, it's more important to show that you've put in the effort rather than the cash! No doubt, when you were dating, she may have dropped hints here and there. Were you listening? If you weren't, maybe it's time to start asking her friends and family for ideas. Or better still, look at what she has already.
If you see a common theme running, like plain bands, then it's unlikely she will go for big diamonds. If you haven't seen anything that leaps out at you, you can always get a ring made. There are places like Tacori that customize the rings, so you can get a style that meets your needs.
If you can find a store that has more styles to choose from, the easier it is for you. You can search every bargain basement for the right style, but if time is a-wasting, then you might be better going for somewhere with a wide range to choose from.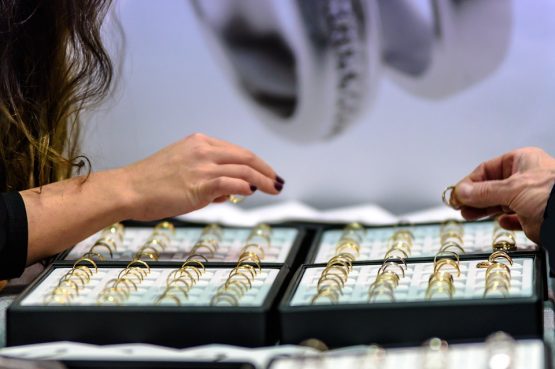 Get The Size Right
Something that can seriously dampen the proposal is the ring being so big it slips off her finger or is so tight that it's really quite painful! Neither are any good, so make sure you know her ring size. You can be covert and get a ring from her jewelry box (one that she rarely wears, so she won't notice) or ask a friend of hers to get the details.
It can be very awkward if the ring doesn't fit, and it'll be embarrassing for you if you decide to get down on one knee in front of a crowd of onlookers!
Insure The Ring!
This may have not even crossed your mind, but if you fork out for a ring that took you a while to save up for you need to get adequate cover should something happen to it. You can usually get it covered on your homeowner's or rental policy but check the details first.