The ruffle trend is one style that is loved for how unique it is. Whether it is a skirt, top or a dress. The ruffles give it that edgy and stylish look no matter the design of the ruffles on the garment. Nowadays, with so much happening with fashion there are several ways that you can style your ruffle skirt. Especially, your ruffle midi skirts whether it is to a party or to the office you can style both looks effectively. The best thing about the ruffle midi skirt is it is a cute outfit and it's versatile as well, one that you can wear to any event. Try this skirt for you can dress it up or down and look fantastic and outstanding. Below are tips on how you can wear a ruffled midi skirt with style.
Matching colors 
Do you want a simple yet elegant look with your ruffle midi skirt? Choose to wear a matching look of both your ruffled midi skirt and top. This makes looking your best easy and you can wear this to any fun event as it is easy to replicate it in different colors. Choose the skirt in a different fabric with that of the top. For instance, as you shop you can get a black silk sleeveless top, and in the online skirts boutique, you can get a tulle ruffle midi skirt in black to match. Depending on the occasion that you are attending you can dress it up or down. Also, you can choose bright tones like mint, yellow and break the monotony with a black heel and shiny black clutch.
Wear with a belt bag
Dress to a ruffled midi skirt with a belt bag to cinch your waist and show off your pins. This timeless look is ideal for a night out due to how sleek it is. There are many ways you can pair it. For instance, with a hoodie and boots or with a knit sweater and ankle boots. Enjoy this look during any season as it blends well and get creative while dressing your ruffled midi skirt so as it does not look all over the place. However, this does not limit you to going wild with this look. Since you can use this street look as your runway to flaunt off your stylish fashion sense. A contrasting color belt bag and different color skirt and top are the best to show off this ensemble.
Pair with chunky knit 
During chilly mornings one way you can feel snug and look stylish is with a chunky knit and a ruffled midi skirt. It is perfect for transitional seasons and is best for different occasions. Dress to colors that that blend well with the season or choose those that bring out your fashion tastes well. For instance, amber, blue and emerald are some bold colors that you can choose for your chunky knit. It is an effortless look to pull off. Allow the chunky knit to a hangover or you can tuck the front in the midi skirt whichever feels comfortable with you. Pair the look with heels and you are all set for the day. Opt for this styling option for your midi skirt if you want a comfortable, warm and stylish look.
Accessorize with slouch boots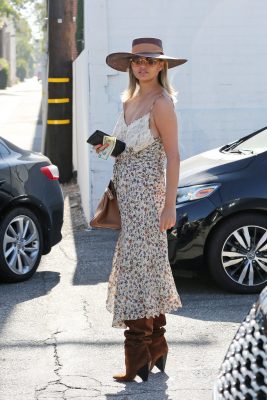 Another way you can style your ruffled midi skirt is by adding a pair of slouchy boots. This is a fun way to style your look without looking over the top. Also, this choice of footwear allows you to wear different shapes and textures of the ruffled midi skirt and still look elegant. Additionally, when it is the cold season you can wear your choice of the ruffled midi skirt with an oversized sweater with a blouse or a skimming coat. Experiment with this pairing for it works with many blends. Allow your inner stylist to thrive as you have fun dressing this ensemble differently. 
Wear a sweatshirt jumper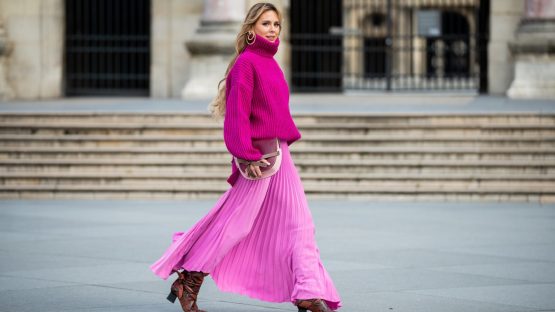 This pairing is one kind that you can effortlessly shift from one season to another. The jumpers are easy to style and lightweight as well. However, they still keep you warm during the low temperatures. Just as with the chunky knit you can wear it hanging loose for a casual look. Alternatively, you can tuck the top half to give you a cinched waist appearance. Choose a simple colored sweatshirt that is fitting to pair with a leopard print ruffled midi skirt. Nonetheless, this is one of the many ways among the many options you can dress in this sweatshirt. Add stilettoes or sneakers depending on the event.
Blend with a shirt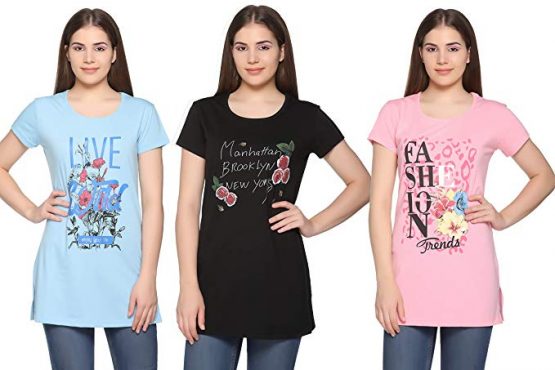 This blend with a riffled midi skirt is the hottest look that you try out. You can wear a shirt with a sheer side ruffle midi skirt for that classic ensemble. It looks good on every woman who tries it and is ideal for transitional weather. Choose a bold color button-down with a matching ruffle midi skirt. Also, you can select a monochromatic shade that you prefer for your ensemble. Plus, ensure that you have comfortable footwear to complete your look. Optionally, you can go bold with high stilettoes for that classic finish.
Wear statement boots
The beauty with boots is that you do not have to wear the long ones to make a statement. Ankle length boots are an excellent way to pair your high low ruffle midi skirt to complete a transitional season outfit. It is easy to style them whether with a tight or slouchy midi skirt. Hence, to enjoy and flaunt this pairing wear it during cooler seasons for it is not only comfortable but a timeless option. Although many women love to wear statement boots with a plaid midi skirt choose a ruffled midi skirt and see the maximum impact it has with that little shift. Try every color and pattern of the boots you prefer until you create an ultimate fashion girl look that you will love.