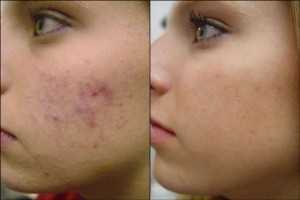 Acne is terrifying both for men and women. Though you may associate an ache outburst with teenage, many people continue to have acne problems throughout life. A person familiar with ache will know that acne is not just one problem. The scars and dents, blackheads, white heads left by it can be a depressant. Acne is also known to weigh down on a person's self esteem and confidence and make him or her shy away from social settings.
If it seems to be such a big problem, we suggest you do something about it. A lot of products today are available in the market to treat skin problems and acne in particular. But if you are a sole believer in not using 'chemicals' on your face, we are going to suggest a few home remedies which are easy to follow, gentle on the skin, highly effective and also, do not weigh down on the pocket.
1. Steam your face lightly for 5 minutes and pat it dry using a soft towel and immediately wash with anti bacterial face soap or lotion.
Use a mix of olive oil and sugar to scrub your face. Be gentle and don't go vigorous on your skin.
It is an effective home remedy and by following it for three days in row itself you'll be able to see the difference. Olive oil especially is known by dermatologists to be a good source for the skin.
There are also other choices of face oils that are good for the skin. Depending on your skin type, you can benefit from using face oils as these are all-natural and easy to use.
2. A lot of ingredient from your kitchen can be used to work out your acne. Try using something from the garden. If you have a plant of aloe vera, go pluck some stems and you will notice a gooey pulp where you broke the stem. Take a knife and slice the plant leaves horizontally and use the gel from the plant to apply to your face. You can also try out various home facial mixes with aloe vera as an ingredient.
Aloe vera acts against acne by cooling the heated skin. It is used in products to medicate pimples and acne irritated skin.
3. Have you heard of Ayurvedic treatments? They are proven methods of using natural ingredients to cure any acne problem. Drink a glass of wheat grass everyday to ensure good internal body health. Wheat grass can be cultivated in the garden or even in a small tray.
The thing about Ayurvedic treatments and remedies is that they have multiple uses and also are a chemical free way to remove acne. If you don't manage to get 100% clear skin, you at least are not adding much more to it by using products.
Neem has been one of the most effective natural remedies of all time for acne. For skin that cannot be scrubbed and needs first medication in areas prone to acne, make a paste of neem leaves and apply to the areas.
I would love to hear your experiences of treating acne with homemade remedies. Please leave me a comment and let me know. Don't forget to subscribe our RSS to receive latest updates.