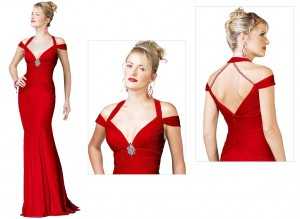 For a special occasion or an evening you always think about ditching the usual halter neck or small cup sleeves with a strapless one to match your femininity. It is not so much as wanting people to appreciate it as much as it is about feeling sexy and even glamorous wearing it yourself. Though we love anything from one shoulder asymmetrical dress to an off shoulder or even a backless dress there are issues like what kind of undergarment to wear with the dress or how to accessorize it that leave us in doubt.
Let's divide it in to three parts – The type bra you should wear with the dress, the necessary tan or bronzing that you should have to give your shoulders a light and the type of accessories and jewelry you should wear.
The usual thought about what kind of bra you should wear with your dress is simple;- a strapless will do. But lot women who are big breasted find it hard to put up with a strapless. It all depends on what kind of off shoulder or one shoulder dress are you wearing. If the choice of dress is casual, then you can easily combine it with a multi-way bra with funky or subdued nude straps or transparent straps. Wearing a formal dress with a transparent straps bra can make it look tacky.
Buy a good brand strapless bra which has rubber strapping on the inside helping it to stay steady for a long period of time. There are also silicon or adhesive bras available which can help you impressively. You also use individual adhesive bras or pasties which are great. If you happen to be a teenager and are wearing something similar to a summer strapless dress or beach dress you can combine it with a bikini top underneath. For professional women, if you have small breasts contemplate going without a bra or you can also wear a bodycon given that the weather is suiting and you won't be uncomfortable.
How do you make it compliment you even more? Do something about your shoulder and neck and face. Make up and skin care is very essential when it comes to wearing off shoulder or one shoulder dresses. Make sure you're your make up is flawless and suited to your dress and occasion. Dust your neck and shoulders with a bronzer or illuminating powder. If you don't expose yourself much to the sun, you can also think about wearing light artificial tan without it looking bad. Make sure you exfoliate your skin before dressing up.
Lastly, the accessories do complete the look. There are two schools of thought here, keep it minimal or glam it up. Even make up is something that affects the kind of jewelry you wear. If you plan on wearing heavy gemstones or diamonds, keep your make up minimal.
In case you are sporting heavy eye makeup, wear something like post earrings to finish the look elegantly. It's all about how elegantly you wear shoulder off's. I would love to hear your experiences of wearing shoulder off's or one shoulder off dresses. Please leave me a comment and let me know. Don't forget to subscribe our RSS to receive latest updates.