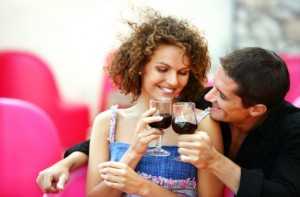 As women, we are always spoon-fed ideas of what romance ought to be. We buy into candlelight dinners, red roses, dark chocolates, opening doors, sunsets from a quiet rooftop and Valentine's Day. Equally, men are often trained or pressured into performing these expected tasks to qualify as romantics.
I'm old-fashioned, I like chivalry, I like attention and I like being spoilt. But any man who thinks this is all it takes to woo a woman, be warned. This comes with an expiry date.
When a relationship is new, women enjoy these little gestures and there is absolutely nothing wrong with unconditional chivalry. But a few years into the relationship, she might actually find a romantic dinner in a swish restaurant sipping champagne, making small talk and wearing a tight, uncomfortable dress whilst a huge market profits from her emotional expectations not really that romantic. At the risk of sounding like a middle-aged feminist cynic, I think roses and candles are the nursery school of romantics.
What is actual romance for a woman? It is when your loved one is able to keep the "spark" lit even as the years go by. We live in a world where almost every man has been conditioned into looking at a woman from the outside, to judge her appearance, and her "lady-like" behavior, so it's only natural that we women want to be seen from the inside. A woman wants the freedom to express her darkest feelings and the most unconventional thoughts.
What men often do not realize is that women can also have days when they want to physically break something, pick their noses, eat a gigantic steak or roam around the house in a torn T-shirt. We have days when we use bad language in frustration, when we are insensitive to men's needs, when we need to be left alone.
The importance of romance for a woman is to feel just as accepted, just as loved when she is behaving unconventionally. This romance requires a little more perception and depth than chivalry because it means men taking a step back when we are angry. Sometimes romance is as simple as a man staying by our side when the whole world sits in judgment. Other times, romance means physically letting us leave and sort out problems by ourselves. To do this, a man requires immense self-control because he needs to let go of that instinctive male tendency to protect, provide and possess his woman. He needs to let go of that male ego we women keep complaining about.
When a man trusts a woman completely, lets her go and waits patiently for her to return, without questioning her loyalty, it is true romance. And it's not something you learn from a glossy magazine. Or buy at a mall.