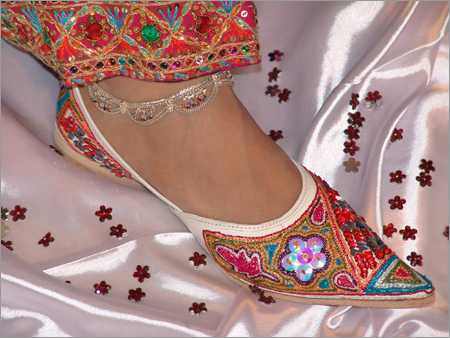 The Mojari is a traditional Indian Punjabi Jutti (Footwear). Elsewhere, similar Indian shoes are called Khussa or Jutti. They are usually made of fine leather and are delicately embroidered with threads or beads. Mojaries are slip-on in style and are characterized by rising high to the Achilles' tendon in the back and covering the toes with an extended curled toe whereas Jutties cover the toes with round or M-shaped heavily-embroidered upper shoe and leaving the top of the foot nearly bare. Some of them are hand-made and have been embroidered beautifully.
These ethnic shoes were worn by Maharajas and Maharanis of Ancient India, various designs showcased in this category are inspired from the Mughal period. All these are handmade by skilled artisans in remote corners of India.
MOJARI is a generic name of handcrafted ethnic footwear produced in India. These are made by artisans mostly using vegetable tanned leather. The uppers are made of one piece of leather or textile embroidered and embellished with brass nails, cowries' shells, mirrors, bells and ceramic beads. Even the bonding from the upper to the sole is done by cotton thread that is not only eco-friendly but enmeshes the leather fibers with great strength. Some product range also uses bright and ornate threads.
In ancient times these were worn by multitude and royalty. As it evolved through the centuries and is being produced by individual artisans, products are varied in designs and colors. It encapsules cultural diversity, local ethos and ethnicity.
While many crafts have withered away, these products have positioned and created a special & niche in the market on account of its attributes. This has happened due to the initiative of United Nations Development Programme (UNDP) and direct intervention of Footwear Design & Development Institute (FDDI), India, which is one of the premier footwear institutions in the world. FDDI organizes training for artisans' skill upgradation, provides design inputs and assists artisans in contemporarising the products by blending ethnicity with changing fashion trends. The contemporary products have strongly positioned in the global fashion market. Diversity of implicit design concepts and creativity of large number of artisans has found expression in wide range of products suited to diverse groups. Products are undoubtedly the finest modernization without specimen of mechanization.
The ethnicity of the traditional skills accentuate into poetry when intermingles with the contemporary colours and designs. Applique in form of differently designed figures are cut out of leather and sewn on the vamp manually. The design would dictate the nature, colour and shape of the appliqué. It could range from an intricate appliqué which itself could incorporate other design features like embroidery, punches, weaves, etc., to a simple cut out shape from any material like leather, textile, synthetic, etc.
So, are you a fan on Ethnic Indian Mojari footwear? Please leave me a comment and let me know. subscribe our RSS to receive latest women footwear fashion updates.