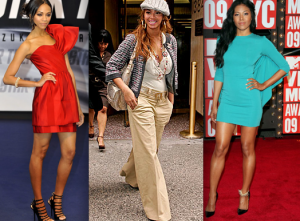 Well, do you think you cannot wear something sexy without coming across as slutty just because you have a big bust or a heavy bottom? Or do you seem to overdo it and think revealing a bit of skin is how you can be sexy? The answer to both is to first understand your body type and also that revealing too much can be putting off for most men or even women surrounding you.
Be it a work place or a party, the right kind of dress, the right combination of a top and bottom well matched can really make get you compliments as well as boost your confidence.
Rule no One would be never to reveal both legs and on the top together. Not that its a compulsive vow to take but you can do so when you have a real party or dinner to attend. Revealing too much all the time can make the novelty wear off. There has to be something special about you when you put on that sexy dress you have saved for an important occasion.
How to show off your assets (reveal skin) and still maintain modesty, look sexy and not slutty? If you are someone who is big breasted, wear a wrap top with just a hint of cleavage showing. Looking sexy is not something you may have to do by flashing cleavage or legs all the time. Wear a high neck on the front and a scooped back top which again is a lovely idea for woman who have big breasts.
Women who have a modest breast size are lucky enough to wear any kind of top, but draw the line at going for a cowl neck all the way down to your belly button. Instead settle for an asymmetrical neck top with a perfect pair of trousers.
Another thing which is very important is that, do not wear overtly tight clothes and if you must and have a great body, wear the right kind of undergarment. You don't want the straps or seams flashing outside. If you are a little chubby refrain from lycra or flowy materials which stick to the body.
Coming to the lower part of the body, show off your legs by wearing a just above the knee skirt to office or a flowing chiffon skirt on a Friday or Saturday. For a night out to a club opt for a modest slit up the thigh and not straight till your hip. Small waist and big hips? If that's your problem, wear a skirt with a belted waist to pull the eye to that area and do not wear a pencil skirt but opting for a flared skirt. For a daring night when you want to pull up a few inches make sure you wear a short skirt without flashing the person. You can even wear an under skirt to prevent the same.
I would love to hear your ideas on how to wear dresses which reveals skin to look sexy and not slutty. Please leave me a comment and let me know. Subscribe our RSS to receive latest updates.