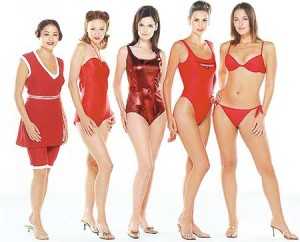 Every woman has a right to be adored and feel appreciated, but this is not possible for every women. For getting appreciation they should first understand their body type and then dress accordingly as every dress is not made for everyone.
Every woman has its own body shape and should dress according, and if it is not done you might land up in an awkward situation where your expensive and beautiful dress fails to provide you the desired compliments. You keep wondering what happened but fail to analyze what exactly went wrong.
This article elaborates on different types of women body type and provides you with dressing tips for varied body structure so as to remain stylish and trendy all time. Moreover this will also help you set a style statement.
Hourglass Body
– The hourglass body type posses gorgeous body curves accompanied with board shoulders, thin waist line and attractive/striking hips.
Dressing Tips
– While dressing it is always good to show your strengths thus lay emphasis on fitted waist line clothes, straight skirts etc. You can also go for belted waist clothes or small pieced clothes which highlight your body curves as per your wish.
Apple Body Type
– The apple body type is posses charming and beautiful limbs with slim looking arms and legs along with slight broadness along with your stomach and ribs giving a slight breadth to your figure.
Dressing Tips
– Wear loose fitting clothes so as to cover your waist line. You should lay emphasis on clothes to highlight your legs and arms so try to wear short sleeves and knee-length skirts as much as possible. Avoid wearing short tops and tight fitted clothes as they will make you look fat.
Pear Body Type
– This is the just ideal body type having a ideal feminine look accompanied with slim waist line, narrow ribs and shoulders with feminine hip line.
Dressing Tips
– Wear clothes such as A-line skirts, flared skirts or belted waist cloth so as to highlight your thin waist line enabling you to balance your lower body. You can also go with wide colored clothes but while choosing make sure they provide you with a detailed waist line.
Pencil Body type
-The body type has straight waists which are accompanied by a narrow shoulders and hip line. This body type people are general y thin.
Dressing Tips
– You should always go for clothes which enable you to achieve a curvy figure. So while choosing clothes go for the ones which provide you with detailing around your bust and hips such as full skirts, waist belted clothes puffy sleeves etc.
Athletic Body Type
This body type is assumed to be a fit body comprising of broad shoulders, muscular legs and arms, with a flatland evenly leveled stomach.
Dressing Tips
– Go for fitted clothes or stretchable fabrics. You can also go for knee length skirts; puff sleeved etc clothes which give you a body type a feminine detailed look.
Short Body Type
–A short body type is the one having a smaller built than average women. If you are short do not lose self esteem and feel low, you are perfect the way you are.
Dressing Tips
– Wear clothes which gives you a lengthen look for ex- vertical stripes solid colors etc. Do not wear straight lined clothes as they give you a short and fat look. Fitted clothes having a empire waists are just ideal for you.
Tall Body Type
– A tall body type is one having a taller body type than average women. They could have any of the above described body types which varies from individual to individual.
Dressing Tips
– Wear clothes that provide you with a break up figure. You can also go with clothes having belts or ties all along the waist line to get the desired effect. Prefer going for patterns than for simple and straight clothes giving you a desired feminine look.
Please leave me a comment and share your experiences of wearing dresses as per your body type. Don't forget to subscribe to our RSS to receive latest updates delivered to your mailbox.