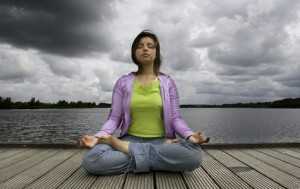 Depression is quite the killer with a person of any age. Wonder why? Men and women given a number of reasons can often get demotivated or swayed by emotions and lose focus. It is noted that women suffer from depression more than men, be it depressed from a relationship break-up or postpartum (post-birth) depression. A lot of men and women are hooked on to anti-depressant. Women can also find themselves trapped psychologically as well as give in to stress.
Transcendental Meditation is a way to purify your body of heavy stress doses by drifting you off into a state deeper than sleep. The physiology revolving this meditation sends you in to a sleep deep to relieve the body of all its exhaustions and stress.
If you know the meaning of 'dreams' you would understand that even dreaming occupies the mind making us chase what we fear or want or do not like.
The mind needs to be in the state of complete relaxation which is exactly the motto of transcendental meditation. Meditation from years ago has been the remedy for giving way to mental exhaustion. Highly popular in the west, it was talked about and adopted by the Beatles and many other celebrities who led to its widespread.
Depression is highly fatal as it reduces the ability of a person to do anything. It also forces people to become reclusive and live in isolation. If you have someone who you would like to get out of depression and don't know where to turn to, try transcendental meditation as it has been termed the therapeutic medicine for clinical depression.
Most of time men and women who live in the city are plagued by constant stress and pressure on a daily basis and need an outlet to them and find it hard to relax. Men are often seen to suffer from blood pressure problems and sleeping disorder is reflective in both men and women. A half hour dedicated to medication or done a few times is a form of survival or rejuvenation whichever way you decide to put it.
Transcendental meditation in particular needs only 15 to 20 minutes daily. You will find that moving to a lone spot to meditate or even sitting or lying down in a quite environment alone will push you to find some relaxation. The main aim of meditation is to move above all thought.
Facing depression can rob you of much reaction and also physically harm you as you are likely to not care for your well being. Anti depressants taken can also have side effects and provoke sexual dysfunction. Hence, rather than take pills and push yourself deeper or for those who have a member around them suffering from depression, try transcendental meditation as it is even recommended by doctors and psychologists.
I would love to hear your experiences of doing transcendental meditation. Please leave me a comment and let me know. Subscribe our RSS to receive latest updates.