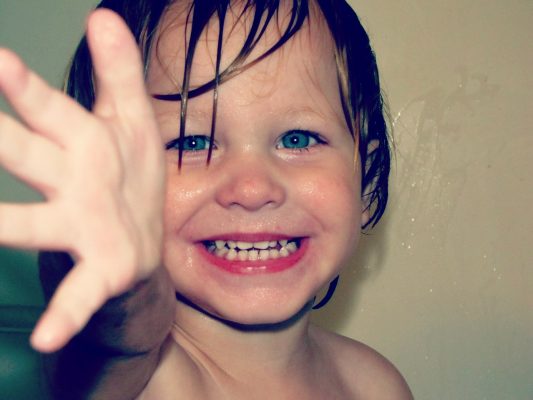 The bathroom is one of those tricky areas of the home when you have growing kids, It's almost impossible to keep it looking perfect, yet it's still the only place in the home that parents can relax and take a breather after a hard day's working and childcare.
We've covered the perfect bathroom for babies before on this blog. But, as your kids grow, what's the best way to go about upgrading it, so the bathroom is a fun – and safe – place for them, while still being an important retreat for a relaxing bath for you? Let's take a closer look.
Tille everything
Growing kids and toddlers have a habit of causing mayhem and mess wherever they go. And whether it's bath time or not, they will still use that room as a place for fun and games – making potions in the sink, deciding to redecorate on your behalf, and much more besides. And while a wet-room style bathroom may not be your particular style, it's worth considering purely because they are much easier to clean.
Go big on rugs
Put a couple of toddlers in the tub, and you will often end up with more water outside of it than in. Kids love nothing more than splashing and throwing water around in their toys, and the result will always be puddles on the floor. To save time, consider investing in several water-retaining mats or rugs. There are plenty of styles around, so choose a few that matches your colour scheme – and don't forget that if you bathe your kids every night, you will get through these quickly.
Drip drying storage
When your kids have finished playing with their bath tub toys, avoid storing them cupboards or baskets. Unless you have the time to squeeze out every last drop of water and wipe them dry, they will retain a lot of moisture and encourage the growth of mold and mildew. Instead, invest in some wire framed racks, which will allow your children's toys to drip dry naturally, and avoid any nasty growths.
Bathing and showering
As your children get older, they will want to start showering rather than always using the tub – just like mummy and daddy. There's a wide range of shower baths out there, of course, but you should always think safety first. Non-slip bath mats are essential, and you might even consider installing hand rails that your child can use to help them get in and out.
Privacy
Another major issue for your kids as they become independent is that they will want to have a little more privacy. The trouble is, as much as they might want to lock the door, they are often incapable of unlocking them – meaning you won't be able to get in in the event of a problem. So, for the time being, think about installing some simple temporary slide locks in your bathroom – high up out of the way of your child's reach. This way you can give them their privacy while ensuring you can always get access if needed.