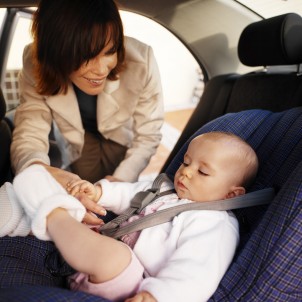 Car seat for a baby is an important baby gear which should not be neglected. Choosing the right car seat for your child's age and weight is very important. Don't just rush to any decision, but figure out your requirement for a baby car seat. If a car seat doesn't seem to fit your car perfectly, or if it seems difficult to fasten in place, do not buy it. Some child seats work better in some models of car than others. Its recommended that you try the baby car seat and see how it fits to your need before buying. Baby Car seat should be held tightly by the seat belt.
How To Buy Baby Car Seat
There are various car seats available but we can categorize them primarily in two different sections :
1. Buy a infant-toddler car seat suitable for infant less than a year or less than 20 lbs.
2. Convertible seats( infant-toddler seats) which can be used by both infants and other offspring lees than 40 lbs.
Here are few basic points which you should consider before you buy baby car seat/infant/toddler car seat
While looking for a car seat the most important thing to check is fitters. Five point safety harnesses can be the best for your baby. It consists of five straps – one each for baby shoulders, one each for baby thighs and one between you and baby.
Avoid using second hand car seats for your baby, as they do not reduce the jerk and buckling on the way. Hence can cause injury to the baby.
Car seats with back belt adjustment are inconvenient for you to handle, thus go for front belt adjusting or automatically adjusting belts for a baby seat.
Buy baby car seat which comes with machine washable detachable covers for easier washing and hygiene.
Don't buy baby car seat which comes with attached pads cover. These attached components are not removable and can be unhygienic for the baby. Look for baby car seat with detachable pads/covers.
Front facing car seats generally have tethers attached which act as a hook and reduces the head movement and thus act as a stabilizer.
Most important thing while looking for a car seat is to check how easily babies can move their hands and legs. There should be ample space and support for baby head and back.
Proper installation of baby car seat is very important for protecting you delicate baby. Be very cautious and careful while getting the baby car seat installed. Never forget to check baby seat before going anywhere.
We would love to know your own experiences and tips on how to buy baby car seat. Please leave us a comment and share with us.