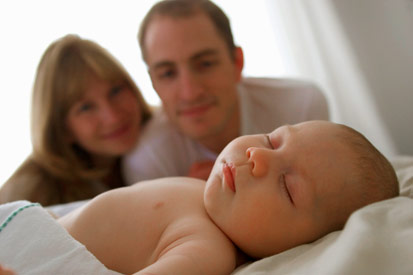 Baby monitors are a boon to parents, especially those living in larger houses or multi storied houses. As your baby grows, she moves, twists and turns and cries and if you are not around the baby, you worry if you won't hear her. Baby monitors were invented to help you roam around your house and garden worry free while you baby sleeps in the nursery. Basically baby monitors are made up of a transmitter, that captures any noise in the room where its kept and a receiver, which you can carry with you and keep track of any movements or cries. There are some video monitors also in the market not for the overly concerned parents, but most likely a voice only monitor is sufficient. As with every other product, there are a lot of baby monitors to choose from and its can be a challenge for most people to narrow down on something that is good for them and is at a good price. Here are the top 9 things to look for when buying a baby monitor:
Buy baby monitors that are based on the new digital technology. Those are the best ones to help avoid being caught on your neighbors' cordless phone or baby monitor as the analog monitors have a much greater interference problem. To avoid being heard by others outside, make sure you turn on your baby monitor only when the baby is asleep and you need to step away.
Buy baby monitors that run on battery as well as regular current that can be plugged into an outlet. Using the monitor on battery will be very expensive as batteries run out very fast.
Make sure the baby monitor has an out-of-range indicator that alerts you by making a beeping noise that the receiver and transmitted to too far from each other to be connected. It will help you to be always within the range so you can hear your baby.
Buy baby monitors that have a low battery indicator which can creating a warning noise when its running out of power. Without this the receiver can just die off and you may not even know, which can be dangerous.
Make sure you read what frequency the baby monitor works on before you buy so you can verify that it doesn't interfere with your cordless phones at home. Interference can be a major challenge so make sure you don't forget this point.
As an additional feature, Evenflo and Safety 1st have models have a 2-way communication capability where you can press a button on the receive and talk back to the transmitter so that you can pass on a quick message to your better half who may be with the baby. It can be really useful, especially if you live in a large house and do not have intercom.
For convenience, you may want to buy an extra receiver or two so that it can be kept at different places in the house. Make sure you choose a model that has the ability to add extra receivers.
If you like something fancy, you can opt for some monitors that have temperature display which can actually be very useful at times when your baby is not well and you want to make sure the temperature inside the house is not too high or low.
Lastly, if you want a cheaper option check if your phone has room monitor feature and you can use that as a room monitor. Uniden has a 55 models that include the room monitor feature so there is a lot of choice. Just make sure that you choose a model that can receive phone calls even when the room monitor feature is being used.
I hope the above tips will help you to decide which baby monitor to buy and what to keep in mind when buying a baby monitor. Please leave us a comment and share your own experiences, views on buying a baby monitor.