The moment she came into your life, you knew she's the one. She's the one you'll look at this way forever. She's the one you'll love coming home to. She's the one who deserves your sweetest expressions of affection. Your best friend you'll share your secrets and endless stories with. The first person to whom you'll tell your latest stories, no matter how happy or sad it is. The mother of your unborn children.
Perhaps, it's not all about the spark you first felt when you met that led you to these realizations. It's not about the initial feelings of attraction in the first few dates you shared. The little things and series of events have rather led you to the conclusion that no other person would equal her. You know that she's the best girl for you and you've never been so sure. She's the one you want to spend the rest of your life with.
She feels the same way towards you. You feel and see how much she loves you in everything she does and say. It's pretty obvious that she feels the same way about settling down together and starting your own family. But the question is, "Is she ready? When is the perfect time to propose?"
The thought itself is nerve-wracking even if you both know how you deeply love each other. But really, there's no need to overthink. All you need to do is prepare. How do you do that though? In this article, we provide insightful tips. Also, read this later.
Pay Attention to Clues
We totally understand—timing is everything for you, guys. Of course, if you only consider yourself, you will know too well the right time you'll be ready to pop the question. But you know that you also need to consider whether your girlfriend would be ready for this life-changing moment or not. You need to find out the perfect time not just for you but for her as well. After all, marriage is a mutual decision.
Of course, proposals should come by surprise. No guy announces it to his girl. Now, so you can figure out the right time for your proposal, try to pay attention to clues. Have you and your girlfriend talked about future plans? You know, things like dream wedding, where you'll live, how many children and many other goals to achieve together.
Her tone of voice and facial expressions can reveal much about her enthusiasm and passion for these topics. It's easy to recognize her excitement when you talk about your future plans together. These must be the clues you should pay attention to. But if she avoids these topics—perhaps what excites her more right now is personal growth, maybe it's better to wait a little more. That's not a general rule though. You know your girl better than anyone else. So, it's still up to you to determine when the perfect time would be. Check this out for more tips: https://www.bustle.com/p/how-do-you-know-if-youre-ready-to-get-engaged-7-signs-the-timing-is-right-according-to-experts-32680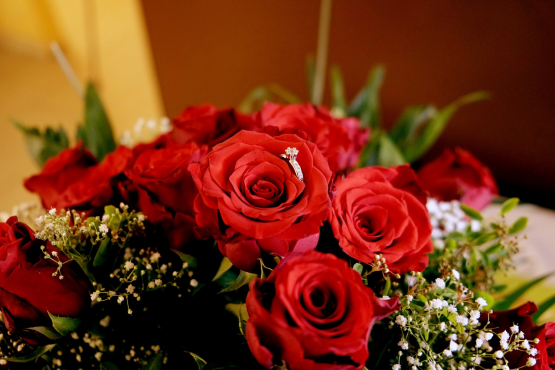 Take Note of Significant Details
Special places. Significant dates and events. Things that matter. Always take note of those special details. By doing so you can pull off the kind of proposal that's really personal for the both of you. Perhaps, you can take her to that special place where you first met or where you first had a romantic date. You can go back to that place abroad where you first traveled together.
Then plan a trip down to memory lane, giving her nostalgic feelings as you recall the most special moments you shared together. And oh, don't forget your theme song, her favorite song or your dedicated song for her! Most importantly, get down on bended knee with that dazzling ring. If you haven't found one yet, you better search where to buy James Allen Diamonds. There are just so many unique selections there.
Finally, be genuine and sincere about your feelings. You might be feeling nervous, but it's important to keep your composure and be sincere as you confess your love. Don't worry, it's not a speech you'll say in front of the interview panel for law school. She's the girl of your dreams. Just say your heart out. You'll get a "yes" and a thousand kisses after that. Bonus tip: Find someone you can prepare your proposal with. Ideally, not a family member or friend. Because sometimes, they can spill the secret out and ruin the whole thing. Hire your favorite photographer instead and work with him.