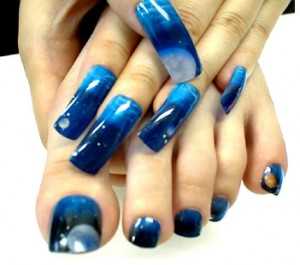 Airbrushing in the field of nail art has enabled intricate designs. Various top nail technicians make use of this technique to give their customers highly detailed and beautiful designs. Rather than using a simple a simple nail polish or decals, airbrushing with the help of an airbrush machine can allow you get a variety of neat looking professionally done nails.
This technique is used in most professional nail bars by nail artists. All that is needed is the airbrush machine which works the air from the air compressor, nail colors and stencils. Creativity and imagination on the part of the person doing airbrush nail art is important. Designs can be overlapped to get better designs. The artist's hand should be good at the brush as mastering it takes quite a bit of time and patience. Determination and practice is what is most needed on the part of the nail technician.
These airbrush tool works the best with double action. It also comes in single action but the control is much more with the double action airbrushing tool. The airbrush also needs a compressor in which case CO2 tanks or air propellants can also be used.
If you plan on giving this a try and are a do-it-yourselfer, watch to understand the proper application procedures or research and observe a nail artist doing it. The tools have to be right as they are essential and the use of right colors is also important. While working with colors, use the contrast principle by using a light base and dark colors to design or vice versa, for the design to start out on the nails.
How To Airbrush Nails
Use acetone to remove and nail polish from your nails and wash your hands before starting. If you need a compulsive file and buff do so too. Pick out the colors your want and try only 2 max 3 colors as you don't want to mess up. If you can't find specific nail stencils, pick up stencils from stationeries or departmental stores to get going. You don't always need specific tools apart from the airbrush to create a design. As mentioned before you can get creative about your design.
Apply a base coat to do your design on and let it dry. Choose a color you want for the background of the design and paint it on. Place the stencil on top your nail when dry and spray from the airbrush to create the design. Carry on that way to create the design you want and use acetone to remove any side sprays to clean up and make your design look neat.
Apply a top count to add a protective layer to make your airbrushed nails last longer. You can let your fingers dry or place your fingers under a professional nail dryer to do the job faster. You can try a lot of other designs using other stencils or random things if you are creative. Practice is the key where nail art is concerned.
I would love to hear your ideas about Airbrushed nails. Please leave me a comment and let me know. Don't forget to subscribe our RSS to receive latest updates.