Hopefully, this list will give you some inspiration and help your special someone complete their formal look!
Buying something special for your significant other can sometimes be a bit of a challenge. Unless you're opting for very targeted and specific items that you know your man will enjoy, you end up stuck with the same old ideas of cologne and socks. That's why we thought it would be a good idea to put together a list of gift ideas for you, focusing on formalwear (because we all know a guy looks great in a suit).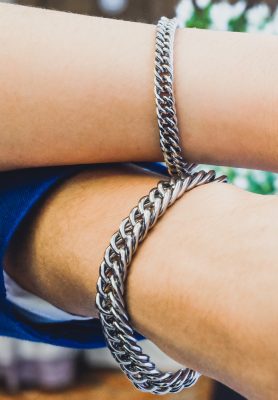 Luxury Jewelry
Bear with us on this one. Many of you might think that luxury jewelry is more of a gift for her rather than for him but the truth is, a well-placed bracelet or necklace can add a whole new layer to your man's outfit. A personalized jewelry design would make an even better gift for him. In recent years, men's jewelry has been dominated by leather bracelets but metal chains have started to make a comeback. Simple gold chains are the most common luxury jewelry options for men and can accentuate the impact of other features in any formal outfit.
In particular, fairly thick gold chain bracelets and necklaces are used to add a new layer of opulence and glamour, whilst maintaining a rugged manly feel. The key to picking out a great chain for your significant other is to decide how thick the chain should be – for a guy with a broader, bulkier body shape you can get away with a thicker style of chain (within reason) but if your man is more on the slender side, then opt for a thin and refined choice.
There are plenty of different options out there, simply do your research and you shouldn't have any trouble making a selection.
Tie Clips
Tie clips are one of the most commonly forgotten additions that a man can include in their formal outfit. Not only do tie clips create an aura of sophistication and style but because they're such small items, they come in a variety of different colours, designs and shapes. This makes tie clips a great gift option because it's easy to find one that your man would love. If you look here, you can see some of the choices available.
The most important thing to keep in mind is how the tie clip you buy will fit into your guy's outfit. You want to make sure that it isn't too big, or too eye-catching; instead, the tie clip should draw out other highlights of the suit.
Watches
Finally, the most obvious choice on this list is the infamous formal watch. The watch that a man is wearing can say a lot about their personality. Flashy, obviously expensive choices can indicate both wealth and confidence, whilst sleeker and more subtle choices suggest that they're more sophisticated or quiet. Regardless, by buying your man a watch you can help them create a defining formal look that grabs the attention of others and looks incredible.
In all different designs and styles, watches can drastically vary in price from cheap and cheerful to super expensive. You should pick out your budget before you start looking for your gift, otherwise, you might find yourself intimidated by the price tags. One of the biggest factors affecting the price is location; for example, American made watches are often more expensive than those made in other countries, though it really does depend on the individual company and the materials they are using. It's all about doing your research! This is just a top three, but there are plenty of formalwear items you might not have thought of from cufflinks to collar bars. Make sure that you look around before making a final decision, you might find a steal!