Is it a long time you had sex? Thanks to your stressful and busy schedule. Well this is the time to make your partner feel how sexy she is and you still have a burning sex desires within you. Have sex at home and make it memorable!
Just pamper your partner and feel every moment of the time spent together. Feel every part of each other and leave aside all your worries and tensions. Just be together and no one else, not even the thought of anything else. You will realize how sexy your sex life would become!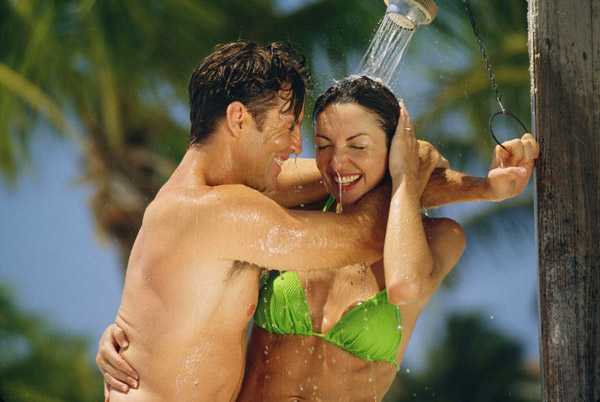 You do not have to go on an expensive long trip away from home to have a memorable and great sex. Home is definitely the best place to have that great sex you always dreamt of!
Just pamper yourself with the luxury of your cozy home, an alluring space and an imaginative mind to make a paradise on earth without actually going away from your home.
Being on vacations is not possible always as it becomes messy and unaffordable. Do not allow your sex life suffer because of this. To hop in a flight and reach a nearby destination is not practically possible always in order to have great sex.
Mae West has stated,"Sex is emotion in motion."
Well your house is no less. Do not underestimate having sex at home. It can be a great event if you choose to make it. You can have a memorable and enjoyable sex within the confines of your four walls.
10 Ways To Bring Vacation Sex at Home
Here are mentioned some important home moves to improve your sex experience. These tips will make your sex hotter, steamer and sexier than ever before. Try them and notice how beautiful sex at home can be:
1. Naked Feel Good
Women who feel good about their bodies feel sexier. Be naked and admire your body. Feel proud and beautiful about being what you are. Start admiring your body and you will feel sexier than ever before.
2. Establish Mind Body Connection
Ponder on the moments when your mind and body synchronized completely and feel exhilarated and happy. Pamper your body and revise your mind. De-stress yourself with meditation and massage. Spend quality time with your kids or relatives and try to make yourself emotionally strong. If your mind is at peace your body will radiate and you will feel sexy.
3. Sexy Bedroom
A sexy enticing bedroom is important to act as a catalyst to initiate the burning desires on fire. The beautiful interior, the satin sexy curtains and the warm cozy ambience of your bedroom may let loose and emblazon the beautiful ardent sentiments hidden within you.
4. Admire your Partner
We all have our flaws and shortcomings but if you want your sex life to be hot, learn to admire your partner's loopholes. Admire and appreciate him as a whole. Do not be criticizing. Remember your partner is your better half and not your bitter half.
5. Tell Him What Turns You On
Share with your partner what all turns you on. Tell him that you love his soft caresses and gentle touches and you are simply switched on. Guide him into what you want him to do with your body. Speak your heart out. Remember he will like your feelings and will be particular about what you want from him.
6. Add Some Thrills
To make your sex a beautiful and memorable experience and avoid being monotonous, add some thrills to it.
Adventurous activities are known to make sex hotter. So spend some time thinking such activities and play them with your partner. Surprise him with your new found adventure and have a great time.
7. Watch A Romantic Movie
It is a beautifully romantic idea to watch a sexy and romantic movie together. The romantic scenes will definitely fill your hearts with deep feelings and you will be ardently cling to each other. The outcome will be a hot exchange of sentiments between the two of you.
8. Some Erotic Risks
Leave all the hidden inhibitions and reservations behind. Try some new positions and postures for a blindfold and have sex. Be imaginative and creative. Sex is to be explored and be bold to do that.
9. Have Fragrance
Perfumes are known to heighten up your sex experience. They are sex boosters. Choose strong perfumes and spray in the surrounding. They lighten the atmosphere and at the same time are mood chargers. Your partner will love this. Keep fresh flowers near your bed. They will refresh the entire ambience. Do not use strong piercing light. Use slow dull lights to make your room sexy and appealing.
10. Wear Sexy Clothes
Choose his favorite colored dress and inner garments and flaunt sexy before him. Leave aside all the hesitation and just be you. Believe it he will love the entire idea.
Believe in yourself and do what comes to your in. You are a sexy woman and know well how to seduce your man. So do that and make sex a beautiful experience to cherish.
We would love to hear your ideas and experiences of changing routine sexual life and enjoy vacation like sexual life at home. Please leave us a comment and let us know. Subscribe our RSS to receive sex life updates.