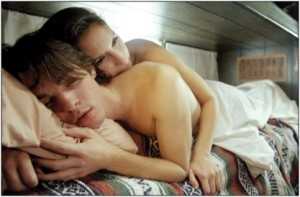 Many women complain at not knowing what 'sex life' means post birth. Reason – The baby. A child can be heavy duty work, especially right after birth with compulsive breastfeeding, no sleep, poop cleaning, crying and care being taken round the clock. Not only mothers but even fathers who stay awake the nights rocking the baby hardly find the energy; forget the time to have sex.
Parent's are known for sacrificing their sex life soon after the delivery and transfer to parenting mode which is great. But, there are few things which can help you to save your sex life and don't let the baby ruin your sex life.
If so is the case, we hope these top 10 tips help you get somewhere interesting.
Wait till 6 to 8 weeks to have sex
Well, this may curtail sex in the starting post birth but trust us the beginning is where the child needs most amount of attention and also the mother with bleeding and swelling can do without for a while. The more rest she takes, whatever she manages around this time is much needed.
Sleep when the baby sleeps
This is practiced by most women as it is an ideal solution to catch 40 winks. Post birth, we suggest if you are thinking of working immediately, don't, it is going to wear you down. If you sleep with the baby in intervals, you will be able to refresh your sleep for when your partner comes home. If the baby goes to bed early enough in the evening, you've got yourself some quality time.
If you don't get time, do with quickies
You're not going to be able to do foreplay for long or enough half a days in bed. You've got baby to please! If you can't go the whole way, indulge in other ways of satisfying yourselves. Get inventive, use the table, the kitchen, the carpet any part of your house for quickies to make it even more exciting.
Ask your parents/ sibling to come over or hire a nanny
This is a given. You can't be by the baby all the time, sooner or later your partner or you yourself are going to resent it. Call over your parents for their grandparent duties or your sibling or a married friend to look after the baby for an evening once you've put him/her to bed.
A nanny today is a practical option if you work from home, manage a small business or want some time to yourself. Dress yourself up, feel good and go out on a date with your boyfriend or husband like you used to before.
Try a mini vacation
If you feel your baby can cope with grand parents or a sibling and has grown up, extend your one night date to a mini vacation. You will need to feel like yourself once again and you and your partner both deserve it.
Schedule your sex time
When we say this, we mean it literally. Plan your time to have sex. When the baby sleeps or it's been looked after, take your time enjoying some carnal pleasures. Plan something enjoyable for the evening once your partner's back and your baby's asleep. Why not role-play?
Go for drive
If you feel the need to get away, try going on a drive. You may just want to bunk on the back like teenagers and enjoy a little…ahem…something.
Avoid working too hard
Keep it minimal activity around the house. The baby is enough work. For anything that requires your attention call a pro or a friend. Handling the baby and working is going to lead to the bed no sooner than later every night…just for sleep.
Keep it exciting
Having a baby and taking care of him/her does not really say you can't do it like before. Try what you haven't tried, or do what you have been waiting for. Having a baby should hardly be a reason to draw you apart.
Use Lubrication if necessary
With quickies and the baby calling for attention, foreplay can be compromised. Hence, use lubrication to help you along and make things easy. You don't want to an upset down there or it'll only make things more work.
Don't let your baby ruin your sex life. Please leave me a comment and let me know how you manage to save your sex life still being a good parent. Subscribe our RSS to receive Relationship and Sex Life Updates.