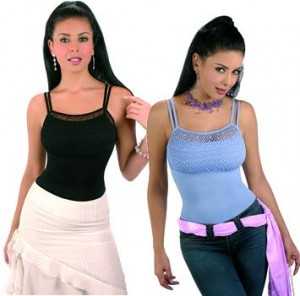 Are you naturally a little on the plump side or have put on weight post ignoring your diet? Lot of women post delivery also find it hard to lose weight and find this depressing when it comes to their confidence regarding their looks.
Clothes can become uneasy the moment you put on weight and what you really want to wear might not make you look your best. There are a few things that you can easily do to look slimmer as well as attractive along the way while you are trying to lose weight.
Add Black to your wardrobe
By this we don't mean wear everything black and look as if you're mourning but instead add black to your evening wear and also your plants or tops. Make attractive combination's with dark yet nice colors.
Black has the effect of making a plump person look slimmer and also is a very attractive color when wore in style. Rather than wear a light-colored dress, wear a black dress for the cocktail party and at work wear a light-colored top with black trousers. Wear a pair of black jeans when going out with friends or to office on a casual day.
Do not wear Baggy clothes or Clothes that don't fit you.
There is a difference between the model you see wearing that particular clothing item and you. Her vitals and yours are different. Lot of people buy clothes looking at the models and not themselves which creates a problem. Do not wear tight clothes or you will feel uneasy and they will also look clumsy on you.
The same goes for baggy clothes. In order to hide your weight, don't wear loose clothes as they will make you look obese. Buy what you can comfortably sit around in and buy styles and colors that accentuate your shape.
Wear proper underclothing
Lingerie today is not just bras and panties buy also has extended in to shape wear underclothing for all shapes of women. Spanx is a favorite item but not all women are comfortable in it.
Buy under clothing for the purpose you want. If you think you have a bit of tummy, buy high waist shorts or wear a waist corset. If you need to wear a dress for a special evening, try on a bodycon as it will help keep your body in shape.
Avoid big prints and strips.
Avoid wearing big prints or something like horizontal stripes as it will make you look broader. Vertical stripes are not that much of a problem but broader stripes can be. Try on one color clothing or smaller prints. Wear your pants with a little bit of heel to make you taller and slimmer. If you are hour-glass shaped, add a belt in between on your empire line to give a break between your upper body and lower.