If you want to make your Valentine Day a special one, here are some wonderful tips to give you a beautiful look. Pamper your skin and choose the right valentine makeup. Apply just what is right for your skin and color and believe it you will have heads turning wherever you go!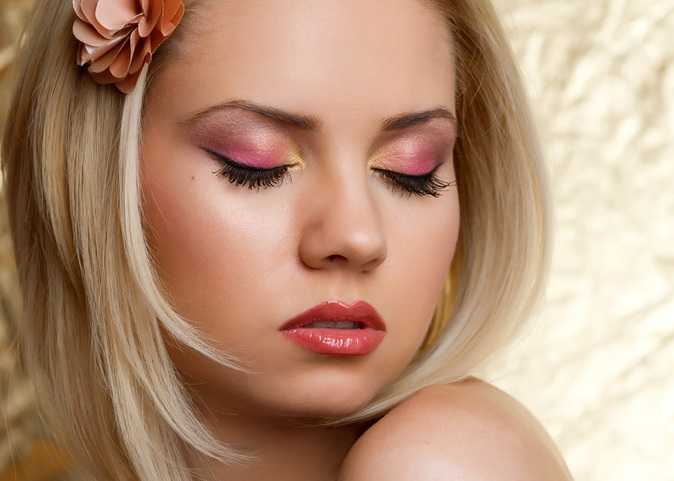 Valentine day is known around the world as the 'Day of Love'. It is the beautiful time when the entire ambiance seems to be absorbed in the wonderful feeling of love and affection. It is also a time to experiment with your looks with new Valentine makeup ideas to make a mark. This valentine be bold to experiment with new color combinations and palettes with cool Valentine makeup tips given below.
Top 20 Valentine Makeup Ideas for Valentine Day
The following Valentine Makeup tips are hassle-free and will surely impart and impeccable and experimental look to you.
1. Soft Romantic Look
You can have this attractive look by curling your eyelashes and using either brown or black mascara. Apply a sheer pink blush on to enhance your cheekbones. The entire idea of this Valentine Makeup is to have a pink look and keep the look as soft as possible. Use a good gloss to accentuate your lips.
2. Vivid and Sexy Look
This Valentine makeup look emphasizes your eyes and can be involves the use of eyelashes and kohl. Enhance your eyes by using a good mascara and eyeliner. Artificial lashes can also be used to serve the purpose. Add some shimmer to your eyelids. Apply basic blush on your cheeks and red lipstick to complete this impressive look.
3. Smouldering Look
This is a completely romantic Valentine makeup look and perfect for the beautiful occasion of Valentine day. Use a black eye shadow for your eyes. Line the eyes charcoal-like black towards the end of the eye length. This will render them appealing and attractive as never before. Apply mascara and deep crimson or ruby color on your beautiful lips to look irresistible!
4. Cerise and Espresso Look
This Valentine, try some great colors on your lips that are different from your regular ones. Lovely cherry-red pink or Cerise is truly an amazing and attractive color for lips. In spite of its natural look, this Valentine makeup is attention grabber and beauty enhancer. Team it up with brown mascara and be sure to turn on the men!
5. Caramel and Java Look
The two brown combinations is indeed a lethal one and are bound to be a captivating one too. You can have a stunning look by using a highly pigmented burnt brown liner and a creamy light brown lip color.
6. Café au Lait and Gunmetal Look
Another great combination is gunmetal gray and creamy light brown. This is a beautiful and impressive combination that guarantees to make a mark. It is less harsh than beige and black and renders your lips and eyes look larger than life.
7.  Peach and Navy Look
For having a classic black smoky eyes and nude lip color look, try peach and navy shades. Blue makes your eyes look wider and larger than real while peach gives a feeling of warmth and coziness.
8. Rose and Plum Look
If you want to accentuate your hazel or brown eyes, plum eye shades will exaggerate your irises. Minimal blush and a soft red lip color will enhance the romantic look.
9. Whisper Pink and White Look
Your sexiness may be multiplied with an extra dose of baby pink or white palettes. Your eyes will look bigger by white shadows and luminescent pink lip color will definitely be lips sexier than ever!
10.  Seashell Coral and Burnt Orange Look
To add a cute quirk to your sexiness, you may try this combination. Use a dark orange to your eyes to cancel the purplish tired look. This is a sure hit with youngsters.
11. Ruby and Buff Look
Ruby red lipstick and minimal eye shades are the best choice for a great look. Red lips contrasted with buff-toned Valentine makeup will definitely make a lasting mark.
12. Silver and Bubble Gum Look
This is a great look to have that Barbie like sexiness. This interesting combination of bubble-gum pink with silver is bound to get noticed and will lighten up your entire face in a great way!
13. Crimson and Carbon Black Look
This palette is a seductive and powerful one. Tangerine shadow, black rich liner and crimson lipstick is a complete head turner for sure!
14. Pretty and Simple Look
Simple is lasting and attracts everyone around. So if you choose to look simple and pretty, apply little liner on eyes and loads of mascara on the eyelashes. Use a matte and natural lip color to complete the look.
15. Bronze and Sexy Look
This Valentine makeup gives great and sexy look for any occasion. Apply a bronze foundation on cheek bones and a bronze highlighter to enhance the bones. Bronze lip color would be just appropriate for this look. With this look you will surely have a glowy and warm finish.
16. Red Sexy Look
Use a red base foundation and accentuate your eyes with suitable eyeliner. Apply thick black mascara and a glossy red lip color to enhance the volume of your lips. Red sexy look is one of my personal favorite Valentine makeup look.
17. Be Natural and Minimal
Try to use as minimal Valentine makeup as possible. Avoid being garish and overdone. Remember be natural and sexy!
18. Flaunt Contact Lenses
Use branded colored contact lenses to have a different look from your regular one.  Choose a color that matches your skin color and enhance the beauty of your eyes with matching eyeliner and mascara. Eye shades should also be chosen accordingly.
19. Do not Ignore your Neck
Pay equal attention to your neck while doing the Valentine makeup. Women unusually neglect this vital region. Remember neck is as important as your face. Apply foundation and translucent powder on the neck so that it blends with the skin of your face and there shouldn't be and demarcation between the two.
20. Crowning Glory and Hands
Take good care of your hair and hands. Use a good conditioner and get a head massage. You may also use henna to make your hair look great. Well manicured and groomed hands definitely make great impression. This Valentine do not neglect your hair and hands. Pay attention and make a beautiful and notable mark!
Valentine is here and you should leave no stone unturned to make the most of it. Go ahead and make a great occasion to remember!
Valentine Makeup Tutorial Videos
Cute Valentine Makeup Tutorial Video
Sexy Valentine Makeup Tutorial
Romantic Valentine Makeup To Look Awesome
Natural Valentine Makeup
Budget Valentine Makeup Tutorial
Browse our Makeup Trends section and read more Valentine makeup ideas and valentine makeup looks. I would love to hear your own Valentine makeup ideas. Please leave me a comment and let me know.