If you are wondering what is Mineral Makeup? How to make mineral makeup? or What is mineral makeup foundation? How traditional makeup is different or can be compared with Mineral Makeup? Read our Mineral makeup review and know everything about mineral makeup, from mineral makeup benefits to differences between mineral makeup v/s mineral based makeup.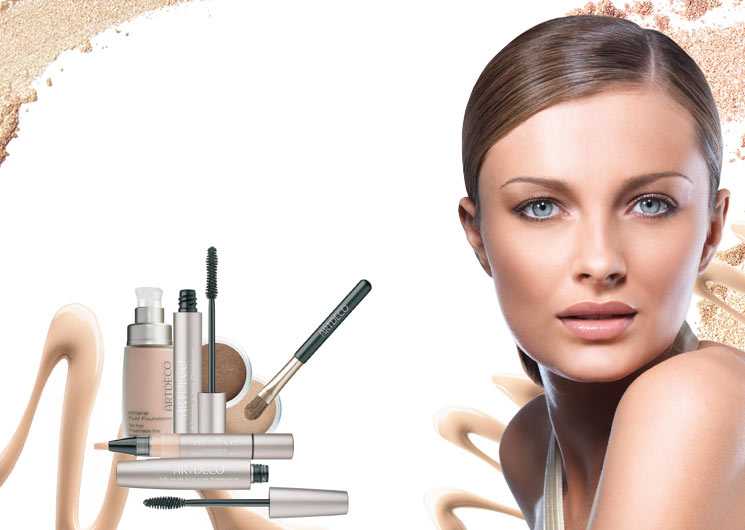 Mineral makeup was started as small boutique item in mid-1970s by Bare Escentuals later many mineral makeup competitors followed suit. Although, mineral makeup is one of the trendiest and hottest thing in the beauty world still it's not something very new but we can safely state that it has gained immense popularity in the last 10 years or so.
What is mineral makeup?
If Mineral makeup manufacturers are to believed then you can say mineral makeup is made purely from crushed minerals ideal to enhance the beauty of a woman. It is said the true mineral makeup will mostly have 4-5 mineral ingredients. Loreal, Mary kay and Neutrogena also known as second generation mineral makeup manufactures have many more ingredients which are later called as mineral based makeup rather than pure or true mineral makeup.
Mineral based makeup may be comprised of many ingredients where as mineral makeup primarily contains Zinc Oxide and Titanium Dioxide which are UVA & UVB natural filters also work magnificently in treating acne. Mineral based makeup might not be effective in treating acne and they won't provide similar benefits of mineral makeup.
Mineral Makeup Products
Typically mineral makeup products are primarily foundations but these days various mineral makeup products are available i.e. blush, eyeliner, finishing powder, eye shadow, face color etc. Some time back these used to come as loose powder only but now you will find these mineral makeup products in liquid form too.
How Mineral Makeup Products Work?
Basic idea behind mineral makeup is simple, you apply it on your face, body and then buff it off. These mineral makeup products liquify by the warmth of your skin. End result is natural finish, youthful and beautiful looking face or skin. There is no denying that certain minerals can do wonder for your skin provided it is applied adequately and you have the correct color for your skin. You will love your beautiful and naturally glowing skin more than ever.
Benefits of Mineral Makeup
Many women love mineral makeup because it has natural sunscreen and have inbuilt sun protection, made from natural mineral extracts so they are purely natural. Moreover, these mineral makeup products make women look lovely and naturally beautiful. Study suggests that a majority of women loves mineral makeup simply because it lasts much longer than traditional foundations, and it's also way cheaper in longer run.
10 Benefits of Mineral Makeup
Mostly importantly, mineral makeup looks & feels great and is ideal for sensitive skin.
Certain minerals found in mineral makeup products  gives our skin a natural & youthful glow.
Mineral makeup doesn't give a heavy made up look like traditional foundations.
Mineral make up products are made of natural and pure products which doesn't contain alcohol, talc, oil or comedogenic ingredients.
Mineral makeup products have natural sun protection (SPF).
Most mineral makeups doesn't contain fragrances, oil, preservatives or talc.
Provides good coverage to entire face and almost look nude, i.e. you aren't wearing makeup at all.
Allows skin, face to breathe yet covers skin, facial imperfections.
Proved helpful for women of all ages, all skin tones and all skin types.
It conceals blotchiness, treats rosacea, acne and smoothes wrinkles & fine lines.
How To Choose & Use Mineral Make Up Products
If you are about to buy mineral makeup products, following points will help you to decide which product is best for you.
Ensure to read mineral makeup foundation labels before purchasing the product.
Mineral Make Up products are available as water based airbrush makeup formulas for foundations, powder form for brush application, browliners, primer, blush, shadows, bronzers and shadows.
It would be wise to select doctor approved mineral makeup brands. Plastic surgeons and dermatologists usually recommend foundations that are silk free, mica free, talc free, bismuth oxycholoride free and biron free.
Many mineral makeup foundations require setting or veil powder to tone down the glitter, shine and glow. You should seriously avoid those mineral makeup products. Just use silk free, mica free, talc free, bismuth oxycholoride free and biron free foundations to avoid any issues.
Choose skin friendly, safe and healthy mineral makeup products. Look for FDA approved mineral foundation to avoid allergies or breakouts.
Ensure the quality of mineral makeup foundations by using good quality makeup foundation brush on your face and skin. Read product's shipping, handling and return policies beforehand to ensure that you should not end up with unusable product.
Before actually buying mineral makeup products, it will be worthy if you buy the mineral makeup samples first. Try these samples and see if that's what you want. If unsatisfied, you can always test some other product from another vendor.
Most mineral makeup products have different application guidelines. It would be wise to read the guidelines prior to test the product on your face or skin.
Always use light hand and little mineral makeup foundations.
Knowing the expiry, shelf life of mineral makeup products is vital.
Best way to opt for a brand specific mineral make up products is to look for mineral makeup reviews online.
Buying your trusted mineral make up products online with coupons, sale is worth giving a shot.
When using mineral foundation and concealer both, simply apply concealer over foundation.
Use rounded top for applying lighter layers of foundation and use a flat top kabuki for heavier application.
Many shadows can double as a brow powder and also eyeliner. Yes, visine works great as a wetting medium.
Many shadows, blushers and bronzers can serve multiple purposes as lip color, cheek color, eye color. Just be sure to read the labels to check for lip safety.
Mineral Make Up Ingredients
If you love mineral makeup then know all aspects of it. FYI if a product says made with minerals it simply means pigment or made from one mineral ingredient.
SPF ingredients
Any mineral make up product claiming SPF directly means it's a drug and once a product is termed as drug, drug-manufacturing laws will limit the sunscreen ingredient to a permitted level. If the product doesn't claim SPF then it will be treated as cosmetic. Just keep in mind that mineral makeup product which claims SPF are less effective than most of those true, pure mineral make up products who don't claim it.
Stay tuned for Sheer Cover Mineral Make Up, L'Oreal Mineral Make Up, Purely Mineral Make Up, Best Mineral Make Up, Bare Essentials Mineral Make Up, ID Minerals Make Up, Mineral Make Up Samples and Mineral Make Up Reviews.
We would love to hear your own experiences of using mineral makeup, please leave us a comment and let us know.