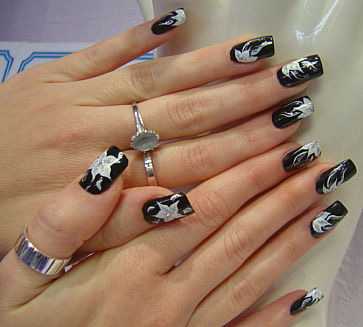 Nails are protective gear to toes and fingers, helping in performing various task which are made up of a hard protein called Keratin.Nail art is a very specialized cosmetic field. Nail lacquering, nail painting, nail decoration and nail piercing are some different nail art ideas. Nail art can complement one's outfit for a special event or add a unique flair to the appearance every day. The fad is no longer restricted to celebrities, models or high profile people  instead nowadays college going love to wear nail art at various occasion.
Accessories for the Nails
Nail Stripes:
Various shapes, designs of nail stripes are available which should peeled off carefully, and try it using tweezers for clean effect. Starting at the cuticle, gently lay stripe across nail in desired position. Then, trim off the excess. Lastly, gently apply pressure with fingertip to secure it in place.
Gold & silver nail Charms:
Gold and silver are easy to use and are quite effective. Peel off paper backing of the charms, place it on nail in the preferred location.then just gently press down with fingertip to secure.
The Cloth Effect:
Texture of cloth can be given on the nails by applying two coats of paint and then while they are still slightly wet, press a patterned (lint free) piece of cloth or chamois leather lightly on them.
Assorted stars & Dots:
You can either use stars and dots to paint your nail or use nail polish with stars and glitter floating in them. For nail art with assorted stars and dots, pour out a small amount of stars or dots onto a paper plate. Moisten end of manicure stick. Pick up individually by touching moistened end of stick to star or dot. Place on nail in desired location, pressing gently to secure. If the star or dot is not securing to nail, you can apply a small amount of Nail Art Sealer to nail first.
Nail Sticker:
Just remove sticker from sheet using tweezers. Place onto nail in desired location. Gently apply pressure with finger to secure and get the desired effect easily and quickly
Tips For Nail Art
– Before applying enamels on your nails make sure they are in good shape , clean and look even. Besides healthy diet, healthy nails also require proper care. Also, make sure that cuticles are nice and healthy.
– Experiment with different brands and types of polish or paint to see which is best and whether it goes with your apparel.
– Nail art can be done in various forms depending upon the jewels and intricacy of design. Acrylic paints are also a good option.
– Removing nail art is depended on the type of materials used. In general it can be removed using cotton balls and acetone-based nail polish.
Precautions Of Nail Art
In case of adverse reaction to a product, thoroughly wash your hands, use acetone to remove it, if necessary and discontinue using the product. However, according to experts there is hardly any negative effect of nail paint as enamel is of very high quality.
Nail Spa For Healthy Nails
Besides nail art there are also different nail spas in the market which help strength nails. Nowadays it has been observed that we  have comparatively weaker and thinner nails. So if you have thin nails why not going for nail spa sit might be the right choice to strengthen your nails through proper treatment.
I would love you to leave me a comment and let me hear your opinion. If you've got any thoughts, comments or suggestions for things we could add, leave a comment.