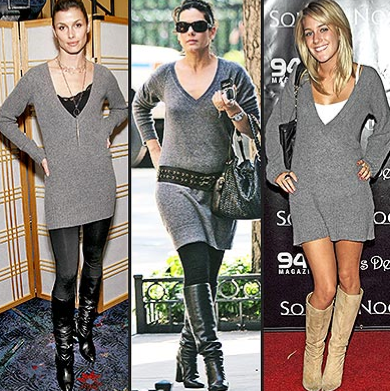 Women love to sport boots and no doubt they are amongst the most shopped footwear of winter season. Women boots provide comfort and warmth which is required in the chilly winter season moreover; they provide the much needed style factor as well.
Typically, women boots are available in various patterns, styles and colors that they become so hard to resist. You have a option to choose wedge heel boots, above the ankle books or knee high boots its entirely your own wish and there are lot more to choose from.
If you wear jeans and blouse then leather boots will suit to your dressing with a leather belt and purse. If you are more into clubs, discs then fringed boots over skinny jeans will set a style statement for sure. These boots are sophisticated yet looks amazing with jeans and tops.
These days, women boots comes in almost all the feminine color and you will see celebrities flaunting boots from time to time. Apart from traditional black, brown or white there are new colors too i.e. rainbow hue, purple, burgundy etc. This new color takes your boots to a new height.
Now the latest trends is fashion boots which offer versatility in style and price, heels can be found from ½ inch to 6 inches. For shorter women who do not wear heels often, a 2 inch heel is more than enough to add height and still be comfortable. Flat boots are considered a ½ inch height, so even if you want to go with a shorter heel, this is fine for any outfit. Taller women should go for shorter heels, but flashier styles to bring attention away from height and to the outfit.
You can buy these cool boots from a shopping store or any retail outlets. If you know your shoe size then you can try eBay or Amazon online to get good discount. Buying online is fun and innovative where you get cool discount and great quality. Read reviews before purchasing from a particular vendor.
Please leave me a comment and let me know how you choose and buy women boots. Subscribe our RSS to receive latest updates on women's boots and fashionable women's footwear.