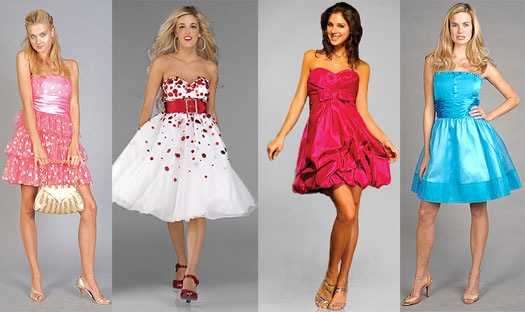 A party is a moment when your taste and personality reflects. At your sweet sixteen party, you will be the center of attraction. Everyone notices you. There should be a special dress for this party. Picking just the right dress for sweet sixteen party is not an easy task. The most important thing to consider while finding good sweet sixteen dresses is to find a dress that is appropriate for your age and occasion. Sweet Sixteen party signifies that a girl is transformed into a women, so dress wisely. Learn how you can select a dress for a sweet sixteen party.
Whatever dress you choose, that should match with the theme of your party. Just like, a 1950's sock hop themed sweet sixteen party would be the perfect excuse to rent a poodle skirt and sweater ensemble from a local costume rental shop.
If the party is very much formal then you should choose the dress depending upon the formality of the party. For a formal, a black tie event your dress should be in the style of a ball gown, while a cotton sun dress will be perfectly matched to a family style barbecue.
You should match the colors of your dress to the color scheme for your sweet sixteen. It you like green and purple then it is good to go for lilac gown with a sage-green sash to tie in with the theme.
You should find a dress that will let you enjoy all the activities at your big party. If you are planning on dancing the night away, your dress's border or train should be able to be bustled up out of the way.
Traditional dress looks nice for a sweet sixteen party like a white gown. These gowns typically worn by debutantes entering society for the first time. For a particular formal event, you can choose a custom or couture gown in white.
Choose inflection colors in your party's color scheme by accessorizing your dress with jewellery or flowers.
We would love to hear your thoughts and experiences of choosing sweet sixteen party dresses. Please leave us a comment and let us know. Subscribe our RSS to receive latest women's fashion updates.