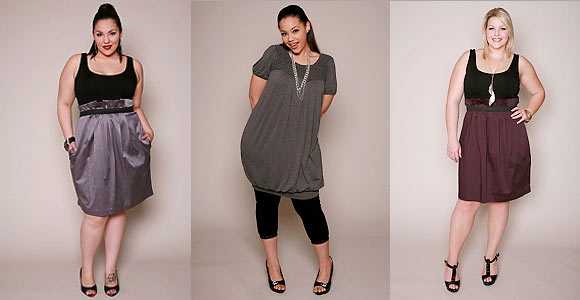 Plus size fashion is an ever growing industry, this is a trend that is only strengthened by plus size celebrities that are currently in the media spotlight. In recent years plus size women have taken their fashion inspiration from icons such as the singer Beth Ditto and actress Amber Riley.
Many shops now offer a plus size ranges within their stores, while many other stores cater exclusively for larger women. You only need to do a Google search to discover the large number of online sites that deal exclusively in plus size fashion. This is obviously a positive in an increasing large society as everyone deserves choices in regards to what they wear. Fashion is such an important part of self expression. This does raise questions about whether the large availability of plus size fashions bring up issues about influences on the next generation. It also can be argued that this availability is not conducive to creating a healthier society in the future.
While there a many negatives around the idea of plus size fashion, there are also many positives that can be taken away from it. If you look at the example of Amber Riley the star of the Fox's hit show Glee, you will see an example of a woman who is clearly very comfortable within her own skin. On her twitter account she said that "I'm so honored to be a part of @seventeenmag's Body Peace Council! It feels amazing to be awarded for just LOVING MYSELF" We are a society that is increasingly worried about Image after being bombarded daily pictures of 'perfect' celebrities. It is good to have people, whatever size they may be, who are comfortable with who they are. There are also financial benefits to the greater availability of plus size fashion, it is a proven fact that they more supply there is of something the cheaper the price. This is a major benefit in the current economic climate that we live in. Overall
These increases in the availability of plus size fashion may also have positive impacts within the fashion industry in general. At the moment the fashion industry is dominated by women that are often labelled as being dangerously thin. This is particularly true when you look at the big main fashion weeks such as those in New York, London and Paris. This may be about to change though with the introduction of Fuller Fashion week. This event will take place in June 2011 in New York, and the organisers aim to bring it other major cities in the future. This may sound great but this new fashion week may help to create an industry of extremes. While this new fashion week is empowering for many women, this is not the case for every woman. In a study carried out at the W. P. Carey School of Business at Arizona State University found that the women had around normal BMI levels did not respond well to plus size models. It found that these women suffered from lower self esteem after seeing these women in ads.
Overall it is obvious that plus size fashion is here to stay and it is obviously a good thing in terms of giving all women the opportunity to express themselves through the clothes that they wear.
Author: Susan Eaton
We would love to hear your experiences and views on Plus Size Fashion. Please leave us a comment and let us know. Subscribe our RSS to receive latest updates on Women's Fashion.