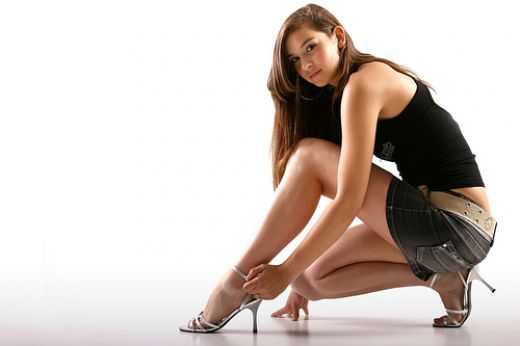 Past fashion always makes a comeback. The classy, cool stuff of sixties is in style again. To your knowledge 60's fashion was all about short skirts, graphic print knits and textured tights. Your skirt could be loose, fitted or swingy but be sure that it's short. And to do it in the modern way, dress up in graphic print black & white clothes with all accessories in black. Believe it or not mini skirts always look best with knee high boots.
Still not sure whether a short skirt will suit you style? or do you think how to make your legs look flawless in short skirt? It's not necessary to follow a trend which you think might not suit your personality. There are lots of flattering choices. It might be a difficult choice to decide on which skirt to choose, which looks best on you, which one would be more comfortable etc. But if you are a bit extra careful in picking up a skirt you can have all these qualities in just one skirt only if you know how to pick the best one for you.
It can be done very easily. Just hold a towel at waist height in front of the mirror and move it up and down to find your best skirt length that suits you. Plus size women please note that hiding your figure behind yards of shapeless fabric will add pounds to your look. A shorter, tailored skirt paired with a slightly fitted jacket will give a sleeker and slimmer look and you'll feel more confident.
If your body is pear shaped, in that case a long, tapered-at-hem skirt will make you hips look fuller, instead you should try out shape balancing A line skirts and can pair it with long & light colored jackets or shirts that diverts all attention from hips to your upper body.
Plus size women can try chiffon skirts where the light fabric makes full styles skim over curvy bodies and for leggy girls knee length fitted skirts looks fine. Petite women should go for short skirts. Pair all long skirts with high heels and short skirts with knee high boots.
The trick to work with bold prints all over is to keep them in the same color family. Wear your bold dress with black tights that balances the bold effect. The cropped jackets are in this season, and you can use them on your dress or jeans they just look fabulous with anything. Metallic knits are glitzy and comfortable and can be combined with tights to show off your sexy legs. To dress in with the latest trends you will require a little legwork. The night-out coats are now short and you can wear it with your longer stuff but need to pair it with white tights.
I would love to hear your experiences, ideas of wearing short, mini skirts. Please leave me a comment and let me know. Subscribe our RSS to receive latest fashion updates.