Make your postpartum sex more enjoyable, ignite the old fire and relive the old moments with increased flexibility achieved post delivery. Having postpartum sex needs understanding about each other and also about the responsibilities. Women have hidden fears about having postpartum sex. It is the duty of the husband to make postpartum sex as special as it was before and help the partner overcome her postpartum sex fear.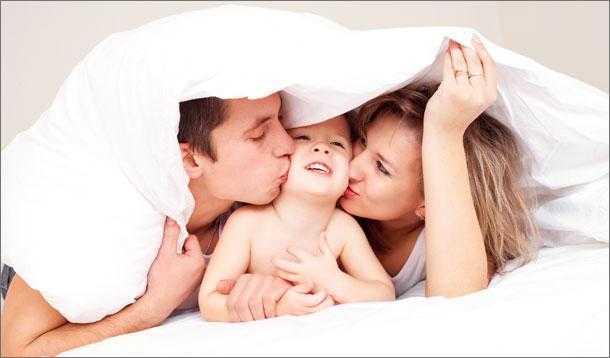 Post pregnancy new moms are busy with the new found responsibilities of looking after the tiny bundle of joy. New moms are over-stressed and busy. This affects their sexual life making the sexual drive and love making an uncomfortable experience.
Generally women are afraid to go for sex after delivery (postpartum sex). This is due to the fear of having a painful intercourse. Some women fail to balance their lives between postpartum depression & Postpartum sex.
For postpartum sex, gynecologists advise to resume postpartum sex after 6-7 weeks post delivery but how to make postpartum sex more enjoyable is entirely upto you. This gives ample amount of time to the mother's genital tissues that were bruised and stressed during the process of delivery.
The most important thing about postpartum sex is to have a good sexual drive and interest in for postpartum sex rather than just doing it. Learn how to break fear of postpartum sex and increase your sexual desires.
20 Tips to Enhance Your Postpartum Sex Life
Here we suggest you some good tips to ignite the sexual urge and make the postpartum sex, sexual acts more pleasurable and enjoyable.
1. Take Time and Don't Rush
Do not be hasty and take time to prepare yourself both mentally as well as physically. Postpartum sex like ordinary sex without full mind and body involvement may sabotage your relationship.
2. Shower Together
Bathing together is a great idea to ignite the hidden emotions lying within the two of you. Believe me you will have a lot of fun!
3. Plan Some Time Alone
It is a good idea to plan spending some time alone. Just cuddle your partner as this will make you feel cozy and warm. Initial warm up is necessary before actually going for postpartum sex. Soft touches will make you feel "wanted for" and will revive the dormant emotions.
4. Know Each other Better
Remember it's for the sake of your own child that you are making adjustment in your life. Both of you have to understand each other better to be able to be good parents to your child. It is rightly said,"Postpartum sex or normal sex without love is merely a healthy exercise."
5. Be Spontaneous for better Postpartum Sex Life
Be spontaneous to enjoy whatever time you may get. Be like a teenager! Place and time should not be a constraint. Do not wait for the night and a cozy bedroom. Things may be different with a small baby so avoid being irritated and enjoy the time you get for great postpartum sex.
6. Plan for Birth Control
Do not be a fool to take chance to be pregnant again. Seek the advice of a good gynecologist and enjoy postpartum sex with no hidden fears and apprehensions.
7. Lubrication
Ensure that you are ready enough to get into the act of doing it rather than just performing it. Take time and unless you feel moist enough, do not go for intercourse. Get that feeling of togetherness and longing and then will you actually have a good postpartum sex!
8. It's Quality and not Quantity
It is not at all important to have sex every night or every week. It entirely depends upon the suitable time or your feelings and desires. Remember, it's quality of postpartum sex that matters and not quantity.
9. Discuss Your Fears
It is quite natural that you might harbor fears regarding the episiotomy or some stitches that you had during delivery. Feel free to discuss it with your partner, he might be able to take care of your fear while having postpartum sex.
10. Do Not Hesitate To Say No
Never hesitate to deny if you are not at all in the mood. Having postpartum sex without interest is of no fun. Intercourse need involvement and has no room for compromises.
11. Be Tender and Gentle
Being gentle and tender is of utmost value to have a great postpartum sex. You should give time and space to the lady, understand her responsibilities and go slow. Do not force or thrust yourself on her. Remember she is delicate and tender too.
12. Soft Caresses
Touch plays important role in surfacing intimate feelings. Soft tender touches and gentle caresses can do magic and make your postpartum sex and sexual acts a great experience.
13. Make Her Feel Special
You have to make your lady feel special and beautiful. It is seen that many women develop a feeling of shyness post delivery owing to their increased weight and de-shaped figures. It is on the part of the husband to make them feel special and desired for again.
14. Back to honeymoon Days
Think of the golden days when you were newlyweds. Spontaneity was in air and a mere kiss or touch was sufficient to ignite the hidden desires and urges. Try reliving those beautiful days again and enjoy great postpartum sex.
15. Have Open Channels of Communication
Feel free to discuss with your doctor the ways that will help you be sexually active as before. Be open and do not hesitate to convey it to your doctor that you intend to be sexually active partner post delivery.
16. Give Gifts
Giving gifts is the best gesture to make your partner feel that you love and care. Flowers speak words that you can't. Give her favorite flowers, chocolates or a teddy to make her feel like a teenager.
17. Watch a Movie
Take some time out from the busy schedule and watch a romantic movie together. Be carried away in the romantic feelings and expressions.
18. Go for a Short Ride
It is highly romantic to go for a short ride along with your little one. These ways not only will you spend time with your partner but you will also save yourself from the guilt of neglecting your baby.
19. Pump It Up
Follow Kegels exercise and pump up blood flow and regain the muscle tone in the muscles of the vagina, important for better postpartum sex.
20. Warm Up
Men get charged up more easily and quickly than women who need some foreplay. Do not hesitate to ask your partner to spend some intimate time before actually indulging for postpartum sex.
You might be interested in reading more about postpartum sex, Painful Postpartum Sex, 3 Weeks Postpartum Sex, Resuming Sex Postpartum, Postpartum Sex Drive, Sex after Childbirth 3 Weeks, postpartum sex fear and how to make postpartum sex more and more enjoyable.
I would love to hear your own experiences and ideas of making postpartum sex more enjoyable. Subscribe our RSS to receive more postpartum sex, sex life updates.